Take a tin of condensed milk...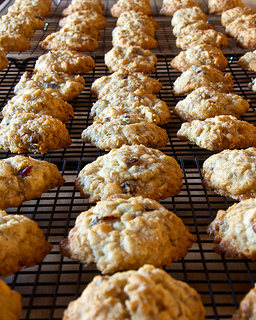 Don't get me wrong I really love cooking.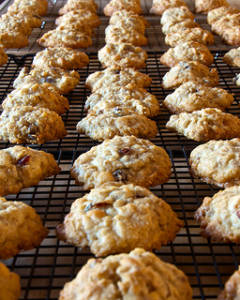 I can whizz around and produce the most fabulous roasts, stir fry and soups, toss pancakes, and with a hand behind my back, make fruit pies to die for.   My mother was a wonderful cook, and a lot of it rubbed off as I watched her, beating, sifting, and slamming the door of the oven as another perfect cake was completed.
But I slunk into a corner when the school fete was being discussed.  Jeanie, efficient as ever gave us our instructions.
'Just bring a slice, and don't cut it remember'.
Ad. Article continues below.
Here it was again the famous 'slice' so strange to me when I first arrived in Australia. Yet the very fabric of life in a small town is affected by its women and their culinary skills. The cake stalls make fund raising a failure or success. Local women have a huge variety of recipes for slices, it is their 'stock in trade'. So with a collection of ingredients designed to destroy dental health I began to bake.
No experienced stall baker could really exist without syrup, coconut, chocolate drops and dates.
In fact, if you just mixed that lot together it would be enough! Jenny Craig, eat your heart out, just reading some recipes stacks on the weight.
One recipe I found instructs:-
Ad. Article continues below.
'Take a large block of dark chocolate, a tin of condensed milk, biscuits and copha.'  Perhaps it should read, 'then call emergency.'
The highest honour is to be a prize winner in the CWA. Stiff backed judges strut about spitting cake crumbs like wine connoisseurs Destroying reputations as they taste;  rejecting plate after plate. To win the top prize requires outstanding skill and a meticulous attention to detail.
"The secret' one lady whispered, "is to use a ruler to measure accurately first, then slice cleanly" She also told me that cutting the sultanas exactly in half gained points. I knew I was lost.
I won prizes for art that year.
Ad. Article continues below.
So armed with all this knowledge I have been trying to emulate my heroines.  Mostly I have failed miserably.  The first few crumbled and looked disgusting, next, batch was too fragile and the third had chocolate topping like concrete, it defied every attempt at dissection.
Fruit sank to the bottom of my fruit bars, cherries burned in my cherry squares.  Yet, occasionally I have triumphed by accident not design.
Ad. Article continues below.
Asked to cater for a Church event, I made three huge batches of biscuits, and for once these were perfect.  I had nonchalantly thrown in more fat and sugar by mistake, resulting in a wonderful crisp yet light biscuit.  Then I became blasé, trying to invent a recipe of my own, adding ginger and chocolate then even gaily slopping in some sherry.  The resulting slice I then topped with half vanilla, half chocolate frosting.
I delivered my efforts to the hall; one of the women, used to my usual dismal culinary offerings eyed them with suspicion.  Without a word, she swooped and tasted one.
Exclaiming with surprise, and looking at me with her beady little eyes.
'These, are really good, how did you make them?'
Ad. Article continues below.
Gulp, I had no idea, so I had to stammer 'I have no idea!' Even my triumph was a bit of a let down.  The biscuit recipe just 'happened' as I went along.  I am trying to repeat my success though.  Variation number nine is just coming out of the oven; excuse me while I taste them.
I seem to need larger waisted pants lately, I wonder why?