Studying over 60 – my writing dream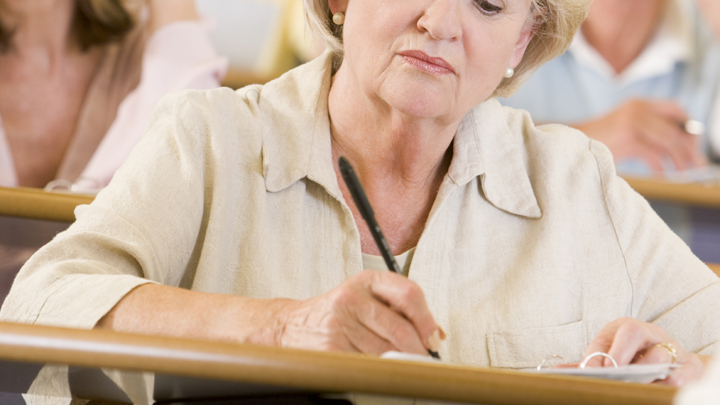 Does anyone use the word 'matriculate' any more?
50 years ago I failed to matriculate by five marks – those missing marks in the Maths I dreaded meant no matriculation, no university. I went off to work, to husband and family, to living in three different countries. It took almost half a century, but I finally got to go to university.
With my husband's cheerful agreement I started the process, and retired from work at 59 to begin studying. Not Maths of course, Creative Writing. It's surprising what you can do once your mind is made up. I didn't want to waste his income so (gasp) I gave up smoking after 34 years. That was an adventure in itself and I was very proud of myself for finding the courage to quit.
The first two years I spent at Griffith University in Brisbane doing Bachelor of Arts subjects to work up the credits I needed for Queensland University of Technology's Creative Writing course, nestled into a Fine Arts degree. I happily tackled my studies. Lots of reading, lots of writing. Mmm. I loved it all, even the exams.
There are natural abbreviations one applies to degrees – BA, BSc, and so on. Bachelor of Fine Arts doesn't sound so good abbreviated so I always say the whole thing in full!
Ad. Article continues below.
My daughters had urged me not to be a typical mature aged student, meaning 'you don't have to answer every question, Mum'. That part was hard. I was pleased to find that the 18-23 year olds I studied with were invariably happy to have a mature aged student on their team. Being the mother of four daughters has made me fairly resilient so I fitted in quite well.
I finished my part time degree after five years, and two teddy bears with mortar boards graced my dressing table. Then I learned I was two subjects short – I had done two subjects that I shouldn't have! So the teddies had to face the wall until I could rightfully claim I'd graduated. It took another year as one subject was in one semester and the second in another semester. I'm so happy to see my furry friends' faces!
Anyone in their mature years who has a yearn to be intellectually tested should consider university study. There is a wealth of subjects in a wealth of courses available. You'll mix with keen minds of all ages, wonder at the efforts of foreign students struggling with English, exult in your marks of 6 and 7, and making the Dean's list. So exciting!
We over 60s and over 70s have an enormous advantage over the young ones. Our wide general knowledge and life experience is hard to beat as a background for almost any subject.
Have you thought about tertiary study? Don't dismiss the idea because of age. I was 59 when I started and 65 when I finished – but I've heard of and met many students older than I was. For a long time I had a picture tacked to my computer desk of a 92 year old man who finally finished his Masters, after a gap of decades. He was my hero!
I may not have my Masters but who knows what the future holds?
Is study in your future too? Or have you studied in your 60s? What would you study if you could? Tell us below.