Solemn tributes paid to victims of Dreamworld's deadly ride accident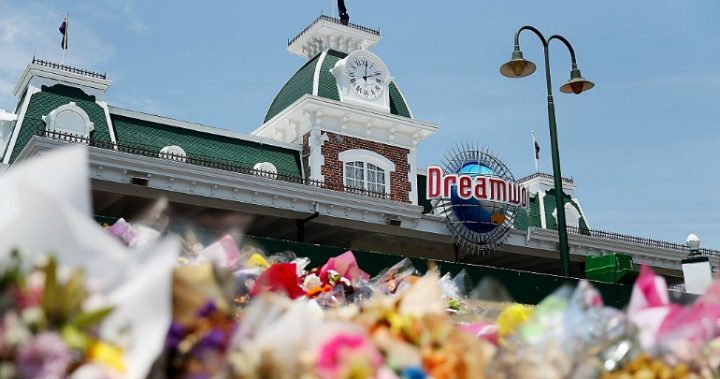 Since its opening in 1981, Dreamworld has been one of Australia's top tourist destinations.
It's the country's largest theme park, boasting an array of thrill-rides, attractions and fun for the whole family.
Perhaps you remember visiting the park with your own kids or grandkids when you've been on the Gold Coast. But a year ago today, everything changed when four people were tragically killed on one of the park's rides.
Victims Cindy Low, Kate Goodchild, Roozi Araghi and Luke Dorsett lost their lives in front of family, friends, and other thrill-seekers when their boats on the The Thunder River Rapids Ride flipped over. During the malfunction, the four became trapped in the machinery of the water ride and died as a result of their injuries.
Ad. Article continues below.
Friends and family watched on as their loved ones passed away in front of their eyes, and Dreamworld shut down the ride for good following the incident.
It was closed for 45 days as investigations took place to figure out exactly what went wrong.
The deaths have had a huge impact on the theme park, with Dreamworld reporting a $62.6 million loss in the year following the event.
Furthermore, it's believed that 30 per cent fewer people have visited the park in the wake of the incident.
Ad. Article continues below.
Dreamworld's official Facebook page has made its profile picture grey to remember the victims of the accident.
They also shared a message online to let the public know how they would be remembering the victims: "Dreamworld, and its owner Ardent Leisure, will hold a private acknowledgement service at the theme park as a sign of respect for those who lost their lives in last year's tragic accident, their families and friends, and our staff.
"The service is private, and we ask this to be respected. The service will be a solemn reflection ceremony for staff, presided over by a local pastor."
Dreamworld also said it would allow members of public to pay their respects: "We will also be making arrangements for members of the community who may like to bring flowers to the Park and pay their respects in their own private way.
"This is a difficult time for all concerned. Our hearts and thoughts remain with all those affected by the tragedy."
Ad. Article continues below.
People across social media have already shared their tributes online.
One person said: "My thoughts and prayers are with all involved including the staff involved. Such a sad day for so many. What a wonderful way for Dreamworld to pay their respects."
Another added: "We visit Dreamworld at least once a week and have seen the full effect this has had on staff, patrons and our local community. Such a sad tragedy. Our thoughts are with the families, staff and emergency services workers."
A third comment read: "Hugs to all the amazing staff, and strength to the families as they get through today."
Do you have a message for the family and friends affected by the accident? Has it put you off visiting Dreamworld?