Sixty Something: My weekend of firsts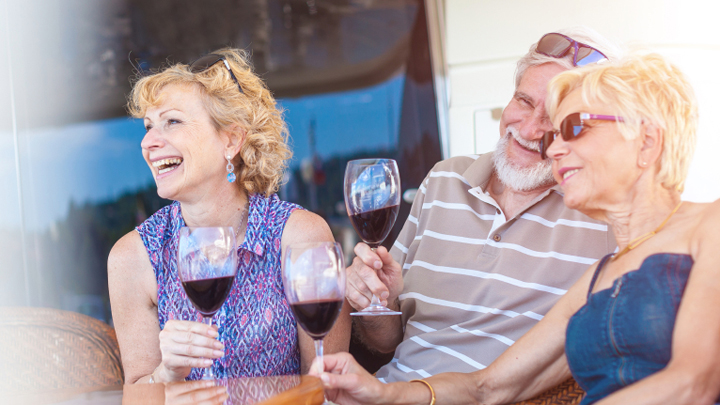 Hello sixty somethings. Today I am going to tell you about my long weekend of "firsts". I had planned it before I got Deep Vein Thrombosis so when I still had a swollen leg and foot, I decided I was still going. I live in Tassie and was off to Melbourne for a few days. Now most of the time, you hear about my negative experiences. Not this time! What fun I had.  
Thursday morning my first task was to take my little dog to the boarding kennel. She had never been to a boarding kennel so this was a "first" for both of us. I think I was more stressed than her.  She was not happy to see me leave, so I got out of there as quickly as possible. Dogs have feelings too and I'm guessing I was really hurting hers, leaving her there. I love my dog and felt guilty, but it had to be done. I have been cooped up for three and a half months, seeing nothing but the doctor's surgery and the hospital, basically. I needed this.
The flight is only an hour and soon I was on the Skybus heading into Melbourne. I had never been on the Skybus, so I had booked it and downloaded the ticket on my phone before I left home, getting tech savvy, my daughter would say. It was fun and I was happy to relax on the bus and watch the skyscrapers as we travelled to the city. When you live in Tassie, you forget that bigger cities have oodles of high rise buildings and Melbourne is a hive of activity.
I was staying with friends who lived in the heart of the city. What an experience; so close to everything. I had never been inside a high rise apartment block. It was great! You could see over the city and you were so central to everything.  
Ad. Article continues below.
The first night we were off to see The Lion King. I had never seen a big famous musical before. This was without doubt the greatest musical experience of my life. If you haven't seen it and get the chance, please do. The puppetry was the most amazing thing I have ever seen. I knew my friend was looking at me with amusement in her eyes. I was so grateful to her for being with me for this very big "first" in my life. I will never forget it.
The following day I went to a Nail Spa. This was my next "first" and it was great. I sat in a massage chair and they made my feet and finger nails feel great, compliments of my friend. SAS had recently done an article on having your nails painted. It seems if you have you toes and fingers painted the same colour it ages you, so I got different colours. Well I don't know if I looked younger but I felt wonderful.
Over the course of the next couple of days, the "firsts" just kept coming. I rode the new free Melbourne trams, went to St Kilda beach and Brighton, where I just closed my eyes and imagined what it was like to live in one of those beautiful homes. I saw a proposal to someone written in the sky and had lunches in trendy restaurants. 
Four days went so quickly. I am 62 and have been ill for some months and found that I was so unfit that it was difficult to breathe for me just walking around. I have chronic bronchitis. But if you don't have a go, you might as well stop living. I had never done anything just for me before. I was lucky, I had one last tax cheque to spend. You can't take it with you, right? I also had a wonderful friend whom without I could not have managed this trip.
Ad. Article continues below.
I crammed lots of "firsts" into my four days, I didn't let my little health hiccup stop me, or the fact that some will say I should have saved my money. I had the best time of my life and am using my leftover money to spend Christmas in Fiji instead of alone. It's not as expensive as you think for a pensioner if you shop around. I just wish you could all experience my last few days. It has given me the strength to fight harder for better health. It has made me realise that at sixty something we ARE what we have been telling the rest of the world – worthy recipients of a long life to come filled with dignity, pleasure and love. Don't give up! Hang in there and do whatever it takes to make your life worthwhile. Experience new things, even if they are only small. Never stop believing in yourself and strive to be happy. 
Share your thoughts below.
To write for Starts at 60 (and potentially win a $20 voucher), send your articles to our Community Editor here.