Shopping and partying in Oaxaca [Not So S.O.F.T.]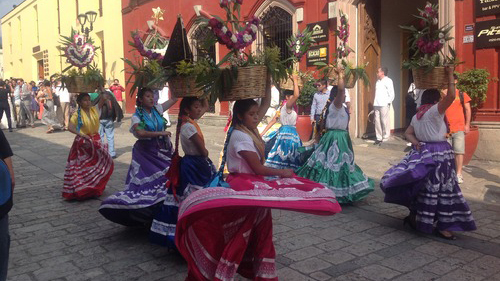 This is the next instalment of Champagne Dame's time in Mexico. To view the previous post, click here
Today we are in Oaxaca, or as it was known to the Aztecs, the Nose of the Squash. Obviously they drank too much cactus juice.
It was once a Zapotec town, but like most things here, it was conquered by the Aztecs.
It was home to the first Zapotec Indian President, Bonito Juarez, the Obama of Mexico.
Ad. Article continues below.
What a joy it was to get out of Mexico City. We hopped onto the ADO bus, but this time there were no food or bottles of water, as on our previous trip. So it was six hours with no water. We travelled through some spectacular scenery. The smog lifted and the air became cleaner.
There were wonderfully shaped mountains covered in dense cacti forests, it was real cowboy territory. The movies, which we had no choice about, were violent and loud. A Mexican soap opera, a zombie movie and spiderman was our entertainment, all belting out over our heads. Being the foolish gringos that we are meant that we sat in the front.
Oaxaca is a delightful colonial city first settled around 1529, and is where cochineal comes from, which is the red bug that lives on the cactus flower.
It has a large indigenous population and some real poverty. We were staying in a typical Mexican adobe house, away from the centre of town, and on the first night it was quiet and peaceful (there is more to come about the 2nd night).
It reminded me of the little Greek villages of the 70's. Cobblestone streets, walled houses, and everyone knows everyone and their business. It is one continuous..Buenos Dias..Buenos Tardes. And Buenos Noches…. I wanted to hold up a sign instead.
Ad. Article continues below.
We wandered around the picturesque town square and managed to buy some quality crafts, which we had been unable to do in the previous places…I am now the proud owner of my very own Panama!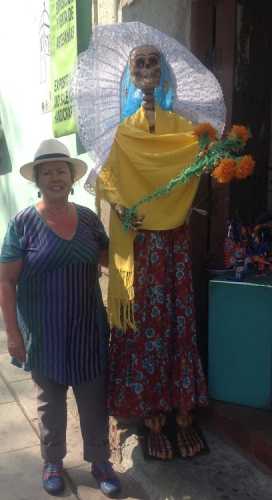 We have changed our names to the Travelling Banging Panamas, because every time we try to talk to each other, our panamas get in the way…clunk! It has upset the Panama a bit, because he cannot be a Champagne Dame…
As we were discovering the Zocalo, we could hear a fiesta coming towards us, it was a wedding.
What a fabulous joyous celebration. There were huge puppets, followed by Mexican maidens balancing large baskets on their heads (flower pot balancing should be introduced in the bay mall! Or at least a U3A course). Then came the very beautiful bride and her parents, the proud father holding up her expensive lace train, followed by an army of guests and of course….a mariachi band…..and fireworks.
Ad. Article continues below.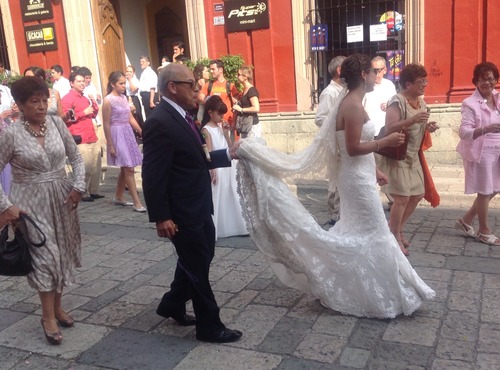 However, back at our casa, just as were about to go to sleep we heard VERY loud music, as well as constant fireworks and rockets. We crept up to the roof to look. A group of bored locals had pulled up in an old beatup VW and were playing very loud music and cracking whip, as you do for entertainment on a Saturday night.
We didn't think much of it and thought it would die down. An hour or so later the music and fireworks were getting louder and woke us up. We dressed and walked down the street and in the local high school a few doors down was a full on fiesta. It was a celebration of the end of the Day of the Dead, which we thought had finished the week before.
It was a surreal, bizarre and slightly creepy scene. Hundreds of ghoul like dead people… (I see dead people) dressed up as Aztec warriors, dead brides, Mexican soldiers, pirates and whole groups dressed in similar elaborate ethnic clothing all with 'sugar skull' makeup. They were gyrating in a trance like manner. It certainly was no salsa, and and 20 piece band played repetitive, hypnotic and almost hallucinogenic music. We stayed until it looked like it was over, fairly pissed off that we hadn't worn our own costumes… Nothing like a good dressup. Unfortunately I did not take my camera.
Then the party really began…all night! It made sleep impossible. It died down around five and started again at seven right outside our casa! I stumbled out to take some photos and everyone appeared to be highly under the influence of something. The very annoying firework man set off a few rockets for the benefit of the gringa, who jumped, and amused the crowd no end.
Ad. Article continues below.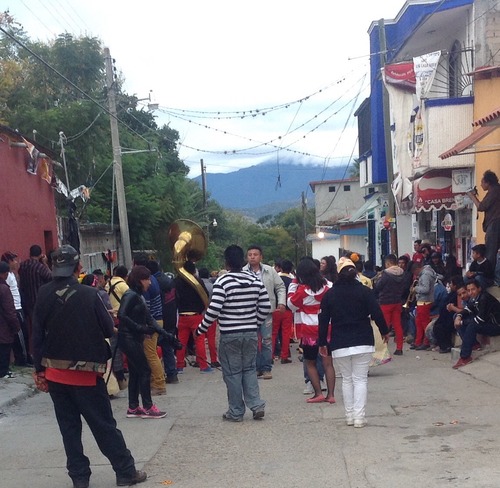 If you'd like to write a blog for Starts at 60 – we'd love to hear your stories! See our guidelines here and submit your articles to us here.