Ship shopping spendthriftery!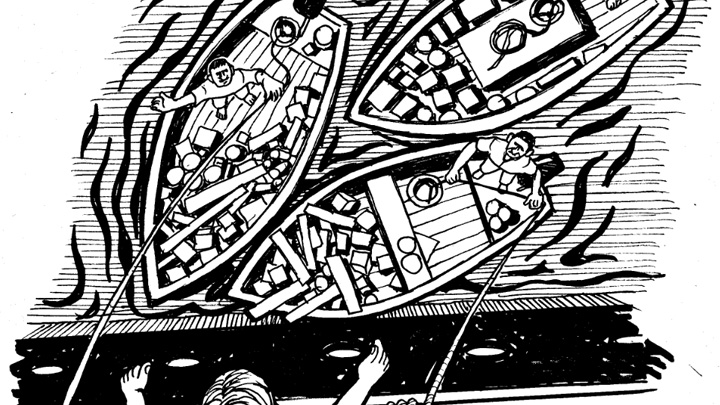 Although it was a long time ago, I seem to remember that many things were different from the ordinary life at home, when you travelled long distances by sea.
A ship was a whole cosmos. A world trapped in a box the size of a city block, containing its own government and social order, and its own rules, which could vary considerably from ship to ship (apart from the international laws that govern all ships). It carried enough food and water to feed a city for a month or more, enough fuel to drive a car many times around the world and it used enough bedding and table linen, to keep a large laundry flat out for a full twenty four hours every day. The ratio of crew to passengers was nearly one to one, but the passengers only saw about ten percent of them all the rest spent their time beavering away below, making sure those passengers were well looked after, the engines were kept working perfectly and the ships systems were all functioning as they should. Including security, printing the ships newspaper and menus, and cleaning just about every surface on the ship, all on a daily basis! Sadly, very few ships ply the world's oceans as 'buses' now, it's cruising, for the sheer pleasure of it, or nothing these days, with aircraft providing a much quicker and cheaper alternative for getting about the world, but with none of the pleasure and comfort provided by sea travel.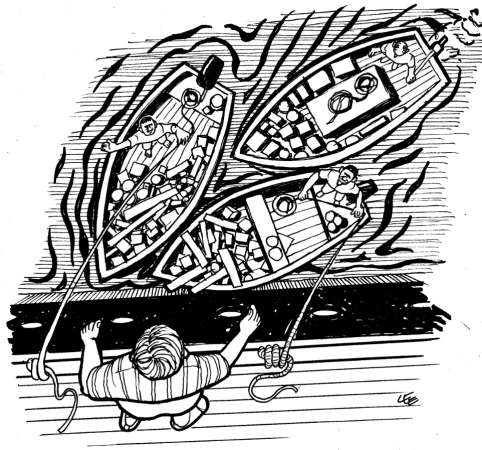 Ocean travel was a great adventure, with virtually everything included in the fare, except alcoholic drinks and the shop… The shop! Many people spent the best part of their trip in the shop, that tiny wonderland of cheap, duty-free goods, elegantly displayed in gleaming glass cases, all crying out silently for the customer to choose them. There were cigarettes, classy perfumes, jewellery, clothing, books, confectionary, cameras, booze and radios, all at prices to make the mouth water; a genuine shopaholic's delight!
Ad. Article continues below.
But the ship's shop wasn't the only source of 'spendthriftery'! When the ship was in a harbour, especially in the Middle East at places like Colombo, Aden or Cairo, there was another form of trading designed to extract cash from the passenger… The 'bum boat'. The long, broad craft that tied up alongside the ship, loaded with trade goods, usually seven or eight of them. They never came on board themselves, but had lines attached to the rail of the ship in a long loop, with a basket attached, to pass items up to passengers who called down, asking to see them. The usual haggling then ensued, with prices being shouted up and discounts being shouted down until the passenger either bought the goods or sent them back down to the man below. Obviously, a lot of trust was involved in this kind of trading, but it seemed to work, with no noticeable cheating on either side. Mind you, I do remember noticing several rather hefty men in local garb, standing behind the crowd of passengers at the rail. I imagine they would have sprung to life if any unsuspecting passenger tried to cheat the men below!
I recall I bought my first electronic flash gun by this method, at a time when they were not yet available in Europe. It was very simple by today's standards and it only cost me fifteen pounds, but it gave me trouble-free service for many years after we bought it, so I have no complaints with the bumboats – a great way to 'do business' – better in some ways than the ship's shop!
Did you ever go shopping aboard a boat or ship? What did you love about it? Tell us in the comments below…