Share some Christmas Wishes with us today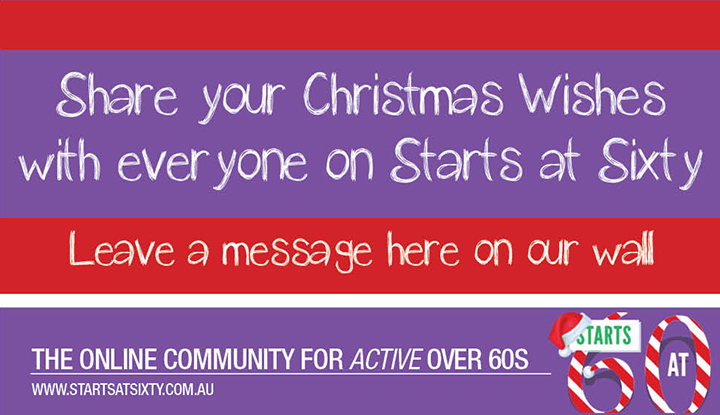 Well, Christmas is really here, and we know you are out there today, some busily catching up with family, others a little bit lonely, some remembering with heartache their lost loved ones who wont be with them.  But today is for sharing and caring, and amongst our community we know we have an ocean of sharing and caring people.  So we ask you today, please send your wishes to others in our Starts at Sixty Community.  Leave a warm Christmas message for others over 60 so they, and we know you are out there.  Tell us a little of what your Christmas Day holds for you, and who you are excited to see.
Tell us what you got for Christmas, and who you miss the most.
And most of all, wish everyone a very Merry Christmas.  I'll get us started…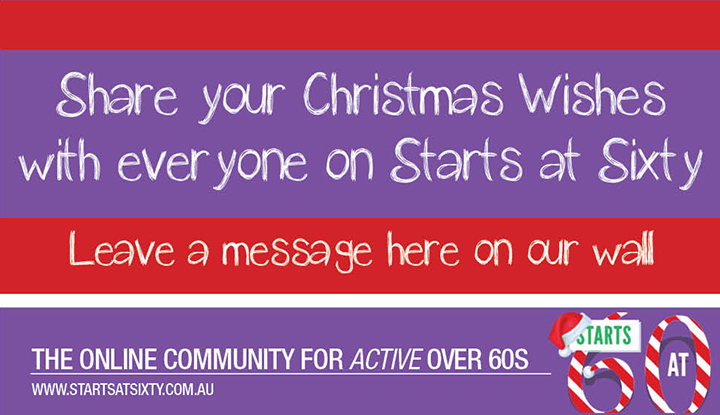 Ad. Article continues below.
MESSAGE FROM REBECCA [PUBLISHER]
Merry Christmas everyone!  If everything goes as planned, this is going to be my parents first non-working Christmas in 28 years (they are 64 and 67).   They'll be here early this year for an afternoon swim in the pool.  My inlaws  (also over 60) have come to stay for Christmas eve and came to Church with us, a family tradition at my childrens' school.  This year my ten year old might just have her last year "believing"… and won't that be special (if a little terrifying that she is getting older).  My two smaller ones can't wait for Christmas with the family.  All three have made wonky looking rum balls, planned the table settings and folded the napkins in a puzzling way to make the table "look pretty".  And we're hosting… three meals in one day.  I am going to be five kilos heavier I'm sure.  I'll juggle to pop in here and chat during the day, and want to wish you all a very Merry Christmas.  These days are for memories and for creating memories I reckon… I remember my Grandma the most on Christmas.  She always made Christmas so personal.  She baked for days with me as a kid, making things just perfect, and just like my kids, I always folded the napkins and set the table.  She gives me plenty of nostalgia today, more than fifteen years after she left us.  But I'm here to  have a great day and I hope you do too [Rebecca]
Leave your message below… 
I wrote another Christmas message last week with many thanks to all.  You can read it here http://www.startsatsixty.com.au/?p=20285