Saturday Night Nostalgia: Remember watching Bewitched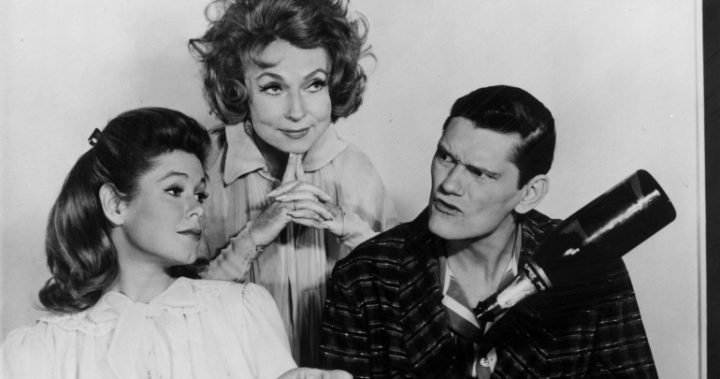 When anyone mentions Bewitched, it's hard not to picture Samantha Stephens' twitch of a nose.
The fantasy sitcom hit television screens in 1964 and went on to become one of the most loved comedy series of all time. 
The sitcom ran for eight successful seasons, starring Elizabeth Montgomery, Dick York (and later Dick Sargent), Agnes Moorehead, David White and Erin Murphy.
Bewitched told the story of a witch, Samantha, who marries a mortal man, and vows to lead the life of a normal suburban wife. Disappointed by her daughter's decision to live a mortal life, Samantha's magical mother, Endora, continuously interfered with the couple's lives throughout the series. 
You might recall that they lived in an upper-middle class suburban neighbourhood on the fictional street, Morning Glory Circle. 
Ad. Article continues below.
Bewitched, an immediate success, finished as the number two show in America during its debut season.
The hit TV show experienced many casting changes, including the most famous, which occurred in 1969 when Dick Sargent replaced Dick York as Darrin. 
In 1957, TV Guide magazine ranked the season two episode 'Divided He Falls' 48 on their list of the '100 Greatest Episodes of All Time'. The episode follows Samantha and Darrin on vacation in Florida thanks to a little meddling from Endora. 
The same magazine in 2002, ranked, Bewitched  50 on 'TV Guide's 50 Greatest TV Shows of All Time'. 
Ad. Article continues below.
In addition to the acclaimed TV show, a short-lived spin off series, Tabitha, built around the now-grown daughter, was aired during the late '70s. 
Bringing supernatural comedy back to the screen, in 2005 a movie adaption was created. Bewitched (movie), was a comedy about the adaption of the TV sitcom and ironically casted a real witch, played by Nicole Kidman to take on the role of Samantha. 
While Bewitched, the show, ended in 1972, it continues to be aired around the world. 
Do you remember watching Bewitched? What was your favourite memory?