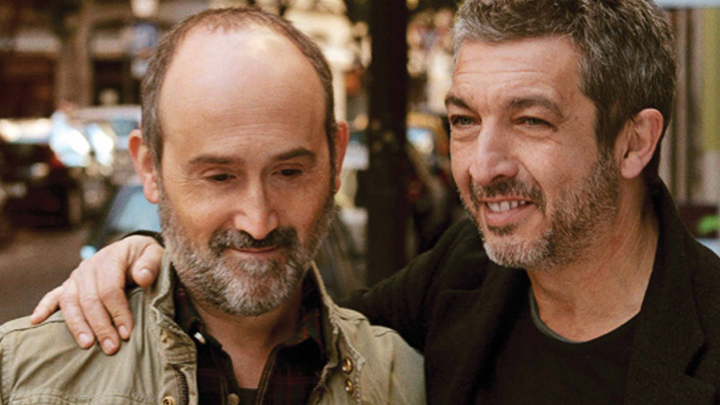 Truman – the title of the film – is a sad Bull Mastiff dog, belonging to the central character, Julian (Ricardo Darin,  "The Secret In Their Eyes).
Julian is a sixty-something stage and screen actor, quite successful in Madrid and still working. He was diagnosed with lung cancer some time ago, but after undergoing chemotherapy for a year he has decided to stop the treatment. He is resigned to his fate and sets about setting his affairs in order. He has been single for a while now, and his beloved dog Truman is the focus of his life.
Julian receives an unexpected visit from his very long-time, but not so recently seen friend Tomas (Javier Camara) who is now a successful University lecturer living in Canada. Tomas has learned from Julian's cousin that he's stopping all treatment, and he arrives, not necessarily to talk him out of it, but to make sure he's making all the right decisions.
One of Julian's main priorities is finding suitable "parents" to adopt Truman, so a screening and interview process ensues with applicants.
A lot of the film takes places in bars or restaurants, which give it an easy-going feel that contrasts with the seriousness of the theme. Julian is not derisive of those who try to help him, but he is has his moments of anger, he feels that no-one can understand what he is going through. As he says, "Every person dies in the best way that they can."
Ad. Article continues below.
There are trips to the funeral parlour to decide between expensive urns or a "money saving" carton.  There are visits to Truman's vet to ascertain whether dogs mourn. There is also a side trip to Amsterdam where Julian briefly makes up with his semi-estranged son.
Tomas is sensible and restrained whereas Julian is more volatile and emotional in nature. Over the course of the next four days the two men reconnect as they wander the streets of Madrid, talking about their lives, loves, regrets and the future.
Two minor players in this movie are the wonderful cities of Madrid and Amsterdam; I enjoyed this immensely, like vicariously viewing a travelogue.
This is a really good film – very moving, funny and sad. The dialogue is simple, but the film is excellently acted and full of underlying emotion. Although this is a sensitive topic, the movie is not a tearjerker, but actually tackles some aspects of Julian's mortality very humorously.
The film is in Spanish with English subtitles. It is a slow moving film but very charming and easy to get involved in.
To write for Starts at 60 and potentially win a $20 voucher, send your articles to our Community Editor here.