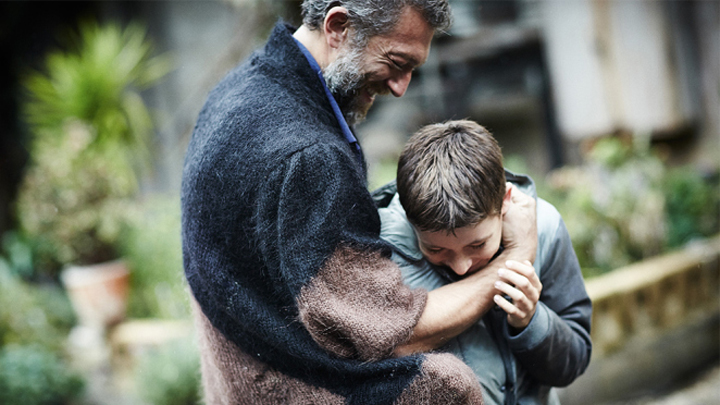 French actor Vincent Cassel's (Black Swan) character of Gregori is not a likeable man. In Partisan, a dark but mesmerising film, Gregori scouts hospitals to find vulnerable abandoned women and their newborn children to populate his commune.
Partisan is set in an unnamed, decaying urban environment, probably after the country has been a war zone (we aren't given any geographic clues or time) – Gregori has set up a cult to protect these women and children from the wicked ways of the new world.
The family leads an idealistic lifestyle: Gregori home educates the children; they have birthday parties, karaoke nights, a swimming pool, their own chickens and a vegetable garden. It's also an environment for patriarchal Gregori to dominate and totally control the family. No one dares challenge anything he says, and their view of the world is only what he brainwashes them with – so, all is perfect in their little corner.
The commune is financially supported by paid contracts that Gregori undertakes as a 'hit man'. He trains the oldest child, 11 year-old Alexander (Australian actor and newcomer Jeremy Chabriel) to be an assassin. Alexander seems to take to this with no emotion or guilt; to him this is normality! But when Alexander and another boy begin to ask questions, things start to fall apart in this "perfect world".
Partisan was directed by young Australian Ariel Kleiman, who co-wrote the script with his partner, Sarah Cyngler, who is also the costume designer and production designer.
Ad. Article continues below.
This brooding, gloomy, absorbing production was filmed in Melbourne and Georgia. In a ROK's Flicks exclusive, Kleiman explained how they managed to seamlessly bring the two filming locations together on-screen:
"Sarah and I travelled to Georgia right as we began developing this story and immediately fell in love with the landscape. We decided then and there that this was the setting in which the world of Partisan had to take place. So this was always something very important to us and became the reference point for all our aesthetic decisions. We ended up shooting the interiors in Mornington, Victoria and all the exteriors in Georgia. Thanks to a killer design team helmed by Sarah and her co designer Steven Jones Evans, the compound they created in Mornington fit seamlessly into the outside world".
The world premiere was at Sundance 2015 where cinematographer Germain McMicking won the World Cinema Special Jury Award for cinematography, depicting the landscape of war-torn Georgia and its environmental harshness.
Partisan is 2015 Australian film well worth seeking out a screening venue – you'll probably find it in an independent cinema
When I saw the Partisan preview, the audience was also treated to Kleiman's previous Cannes 2010 award-winning 20 minute short film Deeper than Yesterday. Set in a Russian submarine that has been submerged for nearly 3 months, the crew is getting a bit tetchy, they have abandoned all social norms and their behavior is tested when they "surface". It is filmed in drained, desaturated colours and totally spoken in Russian (subtitled) and filmed in Melbourne – what an achievement!
Ad. Article continues below.
ROK's Rating: 3 glasses bubbly
Tell us, would you see this flick?