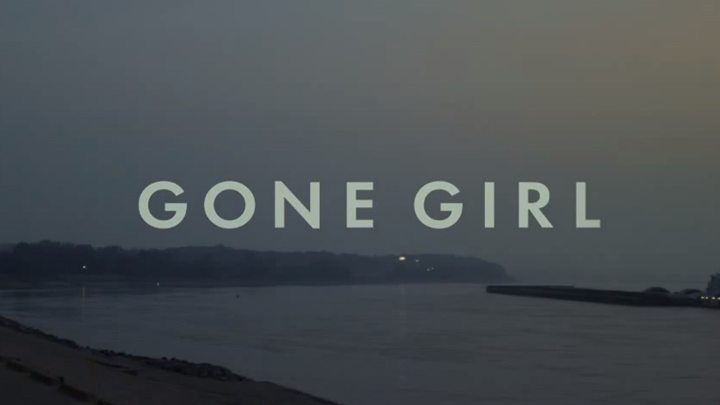 I hadn't read the book prior to hiring this DVD, and from discussions with others, maybe I did myself a favour by not having preconceived ideas. I bought the book, but my husband read it first, thought it was "rubbish" and took it to the local Op Shop before I even turned a page!
Suffering financial stress after the GFC, a couple moves from their successful life in Manhattan to less affluent circumstances in Missouri. We initially see them as the perfect couple; she the wealthy blonde, he the well-known writer for a magazine. But there's something wrong, something uneasy, something quite unlikeable and dysfunctional about these two people.
Amy is beautiful, but a schemer while Nick is a philandering, uncaring husband. One of them is seriously disturbed however neither of them ends up being how we originally perceived them.
Nick (Ben Affleck) arrives home on the evening of his 5th wedding anniversary to find a disturbing scene, the front door open, the cat wandering outside, a coffee table is smashed and there's no sign of his wife Amy (Rosamund Pike)
Nick is distressed and immediately calls the police; they eventually have their suspicions but are unable to lay charges because "there is no body" (not like in Midsomer Murders, where there are plenty).
Ad. Article continues below.
As days go by and the hunt for Amy goes nowhere, things begin to look bad for Nick. His alibi can't be substantiated, his answers to police questions sound dishonest, and his grinning at a press conference with Amy's parents makes him appear all the more "slimy" …. and murderous?
A cable news show follows the story and their news vans surround Nick's house. He moves in with his only ally, his twin sister Margo, who eventually also has her reasons to doubt his innocence.
When the police find Amy's diary, where she has written that she has begun to fear for her life, that she believes he's been unfaithful and that he has a temper, Nick has to backtrack a little and explain his side of the story. We hear Amy's version via voice-overs and flashbacks.
Now, all this suspicion and finger pointing happens within the first hour or so. So, without giving anything away – there's a lot to happen yet, so get a cup of coffee and sit back for the ride.
Ad. Article continues below.
'Gone Girl' relies on "recollections" to show the couple in happier times. But, there is violence, cunning and deceit in this relationship well before girl goes!
There are two storylines running parallel here, so you need to "hang in there" – it is a 2.5 hr long film – and I can't promise you'll like the ending, but my lips are sealed.
I thoroughly enjoyed this psychological thriller, which kept me intrigued until perhaps the last few minutes.
ROK's Ratings: 4 glasses bubbly  (but a good dose of reality needed too}