Remembering the mini skirt!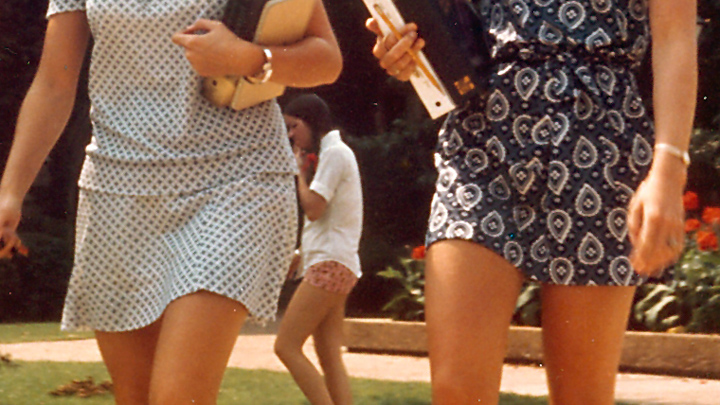 Recently SAS had a blog about the mini. "Great" I thought, "someone is going to look back at the mini skirt". Not to be I'm afraid – it was about the mini and mini cooper-S. So I'm going to take a trip back to the years in the 1960s and 70s when the mini skirt was the fashion.
Jean Shrimpton paraded the first version Australia had seen. It was only an inch or two above the knee but caused pandemonium. The oldies were shocked and considered it would never become fashion. But the younger generation loved it, and I think it was partially to rebel against our parents. Gradually the hems came up and up. As many of us had mums who sewed, our dresses were home-made. I remember my sister and myself having the hems pinned up on new dresses. Mum had this stick that she put a mark on where the bottom of the hem should be. Mind you where mum wanted the length to be and where we wanted it was about a foot in difference. We would gradually turn while mum pinned up the hem. We soon learned that if we leaned toward the stick as we turned our skirts would be shorter. I think our poor mum wondered if her eyesight was failing when the hem was up and so much shorter than she intended.
But those were the days when I had beautiful long thin legs. Now they are thicker, have some deficiencies like varicose veins, fluid retention causing thick ankles, dimples where once smooth skin existed, scars from accidents, cellulite, and swollen knees from arthritis. I know some women still have lovely legs, but I now do everything I can to hide mine, not show them to the world as I did as a young person. I'm not complaining – they are still the same length and I did have my days back then when I could dazzle the boys with my pins.
Ad. Article continues below.
There were some downsides to the mini. You couldn't bend from the waist and had to be careful how you sat. Pantyhose had just come into fashion so one had to make sure of the right size. Not a good look if the legs were too short and the panty part hung below the skirt, or if they were too long and there were folds of pantyhose along the legs. You never got a job in a library where you had to climb ladders to return books. Double decker buses, when I first started working in Sydney, were the blight of women in minis, especially since there were usually no seats downstairs. All of the perverted young (and old) men would stand at the bottom of the stairs and look up. Amazingly we took it all in our stride.
I was told by one of the managers where I worked that my skirts were too short. I felt like telling him to stop looking then. He asked me to take the hems down. I didn't. He called me back into the office and said he was glad I'd taken the hems down and that I now looked much more professional. No wonder they went broke, more concerned over the office junior's clothes than getting on with their work and definitely no attention to detail. Probably some fuddy-duddy had complained to him.
During this time we had the mini skirt, the maxi skirt, hot pants (and I sure took on that fad) and pants suits. Looking back that was the start of a much more lenient lifestyle as far as fashions went. No longer did you have to wear gloves, hats and stockings and dress like you were going to church every time you left the house. It doesn't seem that long ago when women never wore jeans. Haven't things changed?
Ad. Article continues below.
Did you wear a mini skirt? Share a pic with us!

To write for Starts at 60 and potentially win a $20 voucher, send your articles to our Community Editor here.