Remembering the lovely Christmas pudding traditions of years past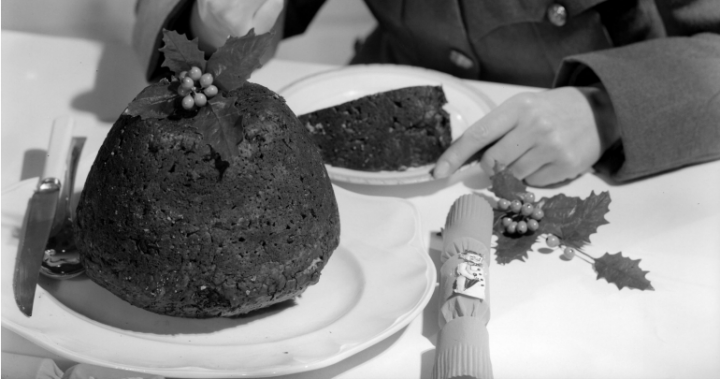 Do you remember the excitement of digging into your slice of Christmas pudding and hoping to find a penny?
Cooking a coin into your pudding was something that almost every Australian household did in years past, with whoever found the coin in their slice of pudding promised good luck in the coming year.
It was a fun Christmas tradition that had the whole family laughing – although you didn't want to laugh too hard in case you accidentally choked on the penny! 
The coins were placed in the batter and cooked with the pudding itself — something that'd probably be frowned on now for health and safety reasons.
Sadly, when decimal currency came into use in 1966, it was found that the new coins weren't suitable for use in puddings, because the new coins changed the taste of the pudding and turned green during the cooking process.
Ad. Article continues below.
You can still purchase threepence and sixpence coins from the Mint to put in your Christmas puddings, but the mint does warn that the coins should be hidden in the pudding after it is cooked.
Read More: My family's famous Christmas pudding recipe
Today, though, you don't hear of a lot of people cooking their own Christmas pudding. Most puddings are bought from grocery stores or gourmet markets and all seem to have a modern twist. Rather than a traditional spiced fruit pudding, people can now purchase double chocolate puddings, orange and poppyseed puddings and even caramel puddings.
In the past, making the Christmas pudding was a long process, but one that connected generations of family as the recipe was passed from mother to daughter.
The traditional way to make the pudding included firmly tying up the pudding mixture in a pudding cloth and plunging it into boiling water, where simmered for hours. The smell of the dried fruit soaking in port, sherry or branding before going in the mixture, and then the pudding soaking again after cooking, is one of many a childhood Christmas.
Ad. Article continues below.
It seemed that every family had a pudding recipe scrawled on some yellowing paper, and everyone boasted that their version was the best.
It's a tribute to the traditional Christmas pudding that, although other parts of the festive day's menu may have changed over the years, hot pudding and custard still features as a family favourite around the world. 
Did your mother or grandmother make a Christmas pudding? Do you remember watching her cook it, or finding the penny when it was eaten?