Remembering our school years...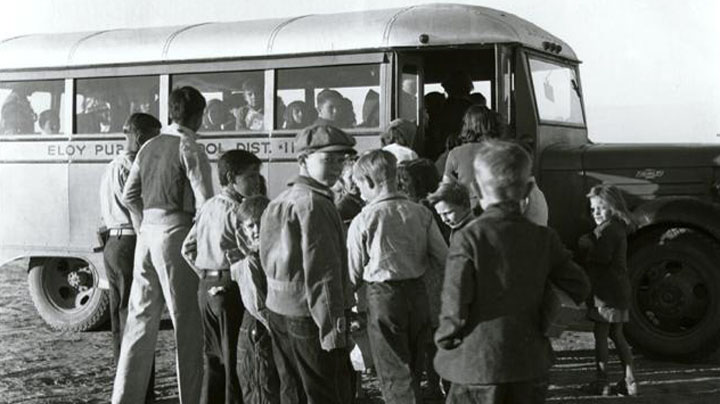 My first day at school was in September 1944. I still had my 'chill-proof' vest on and a liberty bodice because it was cold.
Mum walked me to school, a good long walk with my brother in a push chair. I wore a grey wool pleated skirt and a sweater mum had made as I had no uniform for this school. I had briefly been sent to a private kindergarten a year before and there I wore a boater and a gymslip. And learned how to draw and write my name before I was 5. Then the money ran out and I was reluctantly taken out of the school. I liked the teachers in the kindergarten as I could use paint and get messy and sing songs. Real school was a shock. That first day is etched in my memory.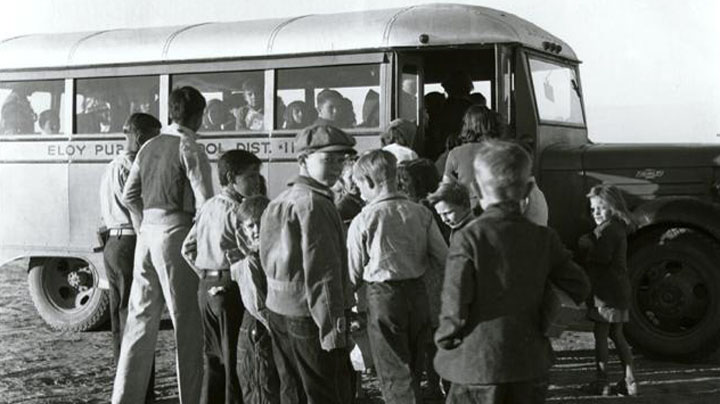 Ad. Article continues below.
Mum left me and I wasn't crying but I felt a bit scared. I was shown my high, wooden desk and told to sit down, no mollycoddling from a teacher, or a trial period to get used to it. So imagine how I felt when the desk in front of me was whacked with a ruler, and then the teacher did the same to mine. Her brutish voice and tweed skirt said it all, and even worse her name I never forgot. Miss Fear was the worst sort of maiden lady. One without a heart. Her method was to scare the hell out of us the first day.
I must have gone into a sort of trance, because I remember very little of those early years. The school still stands, it is a solid, grey Victorian building. I recall the walk over the railway bridge, and getting apples from a farm on the way to school for a penny, buying liquorice root to chew on from the sweet shop. Yet I can't recall how I was taught, or who I played with. By the time I was 8 we had moved house and I went to a city school. There I was bullied until I retaliated and hit the boy in the face.
Each Friday, when Mum shopped I had lunchtimes with my Gran, another tough cookie who took no nonsense. I was shy and quiet and she shouted a lot and didn't smile much. We always had fish, which my lovely Granddad (who I adored) called "Toe Rag". I think it was a dried fish that was soaked, I just hope it wasn't whale meat. It was the only day I didn't have the delight of school dinners.
School dinners in wartime, and even just after the war, were pretty foul. But, luckily, I was a hungry child and ate most things. I especially liked steamed puddings, tapioca and rice. The dinner ladies came around with seconds sometimes, I loved the synthetic yellow custard. I suspect we had dried eggs still in some meals, and a lot of spam. I was more reluctant to eat the strange fish and now I am glad, as it was absolutely horrible.
Ad. Article continues below.
Before school we lined up and Mum gave us a spoonful of cod-liver oil with some orange juice in the spoon, and a big spoon of Virol, which was a malted supplement like treacle. I loved that. This was to make us healthy, and make up for any vitamins we missed. We got little bottles of concentrated orange juice from the ministry of food and like the milk at school, this was free. We also had something called Scott's Emulsion, and had to be given Syrup of Figs for our inner workings! Children today would curl up and die if you tried to force that down them now.
We did all the usual things, recited the times tables, learned to spell and wrote in nice handwriting with a pen and ink. We had history crammed down our throats, were told how wonderful Winston Churchill was. For sport we played hockey and rounders which I hated. We did exercises every day in the freezing playground too.
With a lot of giggles we learned the Gay Gordons and the Velita. Secondary school was a blur of French lessons, science, and trying to master shorthand. I could type, and that is a skill I am glad I mastered (I might not be writing this if I didn't!). I caught the school bus then as I lived in the country. Boys teased me but my intense manner and shy nature made a late starter with boys. I made up for it the next year as I went to coffee bars and met French students. But that is another story….
The one thing I gleaned from those years was that I loved words, loved books and I dreamed of writing. I also learned I was an untidy little girl, and I often had blots and crossing out on my pages. Yet my best teacher, the one I loved, the dear lady who most encouraged me, she looked past the messy pages and told me to 'keep writing'. Thank you Miss Griffiths, I eventually took your advice.
What was school like for you? What do you remember fondly and what parts didn't you enjoy so much? Share your memories with us in the comments below…