Real people: When life says, "Hello, we need to test you"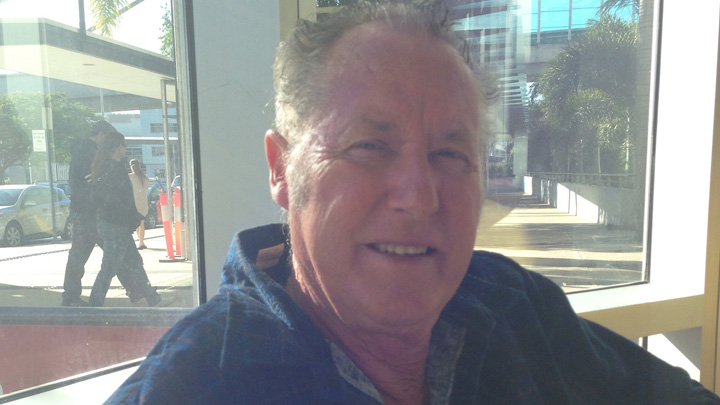 There's always that time in your life and you are feeling very happy and fulfilled. You have a great healthy husband and job, and you're both content. And all of a sudden life decides to pull the rug out from underneath you. Like it's saying "hello, we need to test you".
In November 2010, we were both working in a retirement village in Rockhampton and I had been sent to another village to fill in for a day or two. About 11 in the morning one of the residents rang me and said, "Corinne we have sent Bob (hubby) to hospital. We found him passed out and couldn't wake him". Of course I said, "Are you sure? He's never been sick!".
I had to get from Gladstone to Rockhampton – such a major problem as our car was up north – so I took a taxi. Wow! They must have thought that was a great fare for the day. Arriving home, I went to the hospital straight away and about two hours later I get told that Bob has a tumour. What! That's a bit more than the migraine he told me he had.
After consultation with the surgeon, we get sent down to the Royal Brisbane Hospital and a few days later Bob had a pituitary brain surgery. They go up through the nose and remove all the tumour.
Yes, you're thinking "where is that?". I had the same questions. It's a very small pea size gland that hangs down from the brain right behind and in the middle of the eyes. This operation took about 7 hours and then 4 days in intensive care.
A few days in the ward and all should have been well. No – sorry to say we get informed that Bob has Cushing's disease. What the heck is that? It's when your body produces too much cortisol and it can cause a lot of damage. Cortisol is a little bit like when you have had one of those V drinks or a black coffee.
Ad. Article continues below.
Cortisol works a bit like a sponge: it sucks all your potassium, iron, calcium, testosterone etc. out of your body. It damages your muscles and causes nausea and we had now discovered Bob also had diabetes. So now he was on 21 pills a day, plus his insulin. Not a happy chappy, I can tell you.
A normal person has between 50/100 levels. Bobs was 5000, so over the next year they tried all the pills and trial injections to bring it down. Nothing worked and so he had 28 days of radiation treatments and that hasn't worked as well as the endocrine team would like it to. Yes, his cortisol levels went down to 275 but for some reason it was climbing higher again.
So as a last resort they decided to remove his adrenal glands; they are like little hats that sit on top of your kidneys. That operation took 9 hours and they went in through his back. Six holes are cut and the scopes go in and do their job.
Medically if you have your adrenal glands taken out, there should not be any cortisol left in your body. Unfortunately fate has a wicked sense of humour and Bob's cortisol levels were still there and were now up to 2500.
He has Cushing's and Addison's Disease plus diabetes. Again fate has the upper hand. We get called into the hospital and they tell us they want to do more tests on a couple of shadows they have seen. What? No one told us that one! After more tests and PET scans etc. we get told that Bob now has pancreatic nuroendocrine cancer. There are three lumps in his liver, a couple in his back and one in his thyroid.
We have had our husband and wife talk. And he absolutely has no idea of all the medical jargon that has been talked about and I can understand that. But I am his rock and I'm there for him. We have written out a bucket list and hopefully it will be accomplished.
Ad. Article continues below.
Life doesn't always go the way you want it and as I said in the beginning, we had no idea that a migraine headache would bring us to this point. But the best thing we did was move to Bribie Island and we go for long walks along the beach and stop and smell the roses. Bob even goes to cards twice a week but as he is now on a trial pill for his cancer he may have to give it up as there are lots of side effects. If it doesn't work he will go on chemo. But that's down the track and I will update you all.
Thank you to Corinne Bryan for sending this inspirational story through to us.
On the 24th of October, Bob sadly passed away after complications from surgery to remove the residual tissue from an adrenalectomy.
Corinne passed on this message to us: "Late in the night Bob had a cardiac arrest and it was later that day that the surgeons discovered he had been having silent heart attacks for the last couple of months. As his wife I am completely devastated as he fought the big fight and was the most bravest man I have ever had the pleasure of knowing. He brought laughter, humour and kindness to everyone he met. We had a memorial a week later and Bob had requested that we play Celine Dion's song "Because You Loved Me".
Thank you to everyone for their kind thoughts from the first article I wrote".
Ad. Article continues below.
Have you had a time where you faced adversity but were able to see the positive? Share your stories with us today.