Opportunity knocks: How I scored four clothing items for $8.75
Loving clothes and being poor as a church mouse can be a difficult combination. Yet I can wear some really fantastic designer threads and dress up for a special dinner with hardly a dent in the budget. I have a favourite 'op' shop and an eagle eye when I go travelling. I bought a white woollen coat, a classic style, when I was on a trip once – it cost me $12. It costs more to have cleaned than I paid! My method is to have in mind the colours I like, the shapes that suit me and the price has to be right. I have been shopping in charity shops for years. In the UK, I used to go to Oxfam. Then in the 70s there were beautifully made dresses and fringed shawls for sale at very good prices. Oh how I remember the dance when I wore the cerise banlon dress, an "Ossie Clark" designer outfit. It clung and draped and fell to the floor, and I felt a million dollars in it. Cost? Two pounds! Then there were the fur jackets at bargain prices, I would not even think of wearing them now! Fur was not so frowned on then.
I suppose the real joy is for a few dollars I can have some retail therapy and since I'm not able to spend big, I just have fun spending $10.
The charity business has had to change though, and I am sad to see some prices in city stores are soaring. Generally I shop locally, where prices are lower, combining a grocery shop day in the next town to a quick fashion hunt. This week is National OP Shop Week and I benefitted as they has a 50 per cent off sale! I had barely 15 minutes but went in to swoop on things. I found a 'special occasion' jacket in the sale for $2.50. I will wear to a dinner in the future (I have a very optimistic outlook and hope the chance of a night out will appear). Other bargains over the years have been a silver hallmarked chain, a diamante necklace, a wonderful mustard Carla Zampatti trouser suit, a velvet jacket I paid $10 for and found the label still saying $109.00 attached. Many strappy tops I wear under cardigans and as underwear. Scarves by the dozen, and handbags. Earrings that are unusual and bracelets to cheer up an outfit.
Ad. Article continues below.
Household items and antique treasures still appear, but are more likely to be snapped up by dealers before we get a chance. If you have to re furnish you can save a fortune if you go to Vinnies or another of the larger shops. Chairs for as little as $5, and good tables are under $20. They are no longer able to sell electrical items which is no problem, after all the chain store prices are cheap now. Ornaments and vases are a fraction of the cost. For students setting up home the basic plates and cups are affordable. Large curtains can be cut down and hemmed to make bedcovers. Then of course for fun there are 'dress up' clothes', every kid should have a dress up box for rainy days. Far better than the leggo bits we step on.
I have photographed four of the items I bought yesterday – total cost $8.75, as they had the half-price sale. One item would have cost that much, the dark blue jacket is Liz Jordan, and the other two have designer labels too. So go and look, I promise not all the shops have shapeless cardigans, use your eyes, hunt the shelves; another plus to remember, these days things are washed so they usually have no problems. You may find nothing, but then there are always the books to look at. My daughter buys toys for her dog to destroy. Buttons and belts can yield treasures too. I also have a collection of waistcoats in all colours. They cover a multitude of sins, or an excess of flesh! Your local op shop needs your support so go and look, whatever you buy will help someone else. I also recycle regularly and take my mistakes to another shop… the clothes go round in circles but still make money for the cause. Happy hunting.
Ad. Article continues below.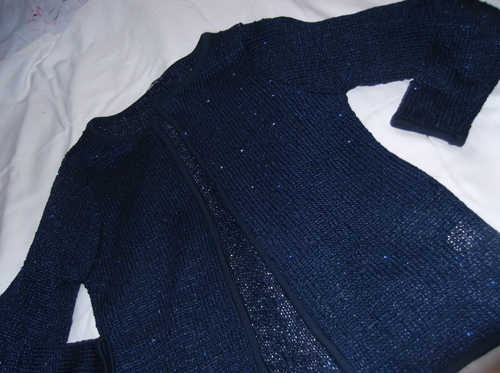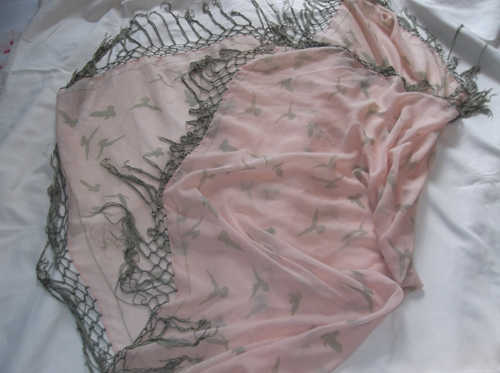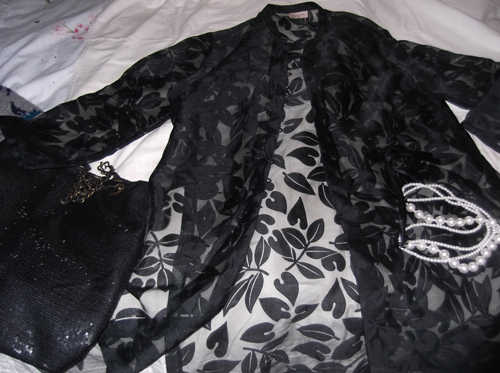 How often do you go op shopping? Do you enjoy the thrill?