Opening a time capsule from 1969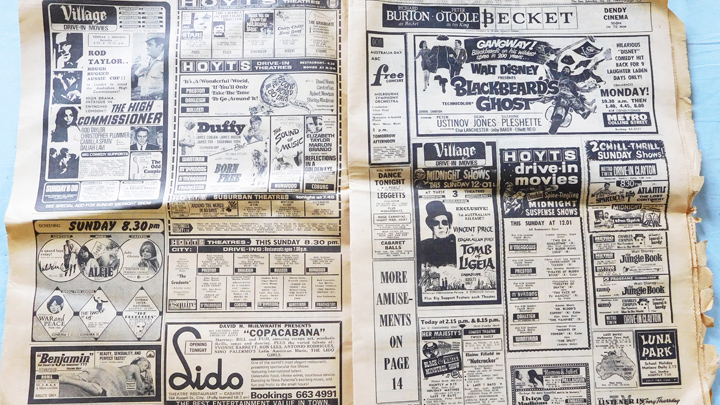 I opened what amounts to a time capsule today! It was hidden amongst some junk in the spare room, unnoticed for goodness knows how long, and it was really very interesting. It was a copy of what was then known as 'The Sun' (now of course it's the Melbourne 'Herald Sun'), dated Saturday January 25, 1969.
The front page, in true tabloid style, had a large photograph of Johnny Famechon, getting a kiss from his girlfriend on his return to Melbourne after winning the world title in the featherweight class, against Jose Legra. A much smaller headline, at the bottom right of the page, tops a story about Sir Arthur Rylah resigning his controversial directorship of Avis Rent-a-Car Systems, apparently over conflict-of-interest issues, due to his political activities. A small, red block at the top of the page, warns us that today there is a 'TOTAL FIRE BAN'.
Priorities have changed considerably over the 46 years since this paper was published, one day prior to Australia Day. Now there would certainly be some stories about the upcoming event, mention of the birth of the Nation, the desire to include Aboriginals in the life of the country, and news of preparations being made, all over the State, to celebrate what has become an important occasion. But I could only find one small article in this old paper, reporting on the proposal of the official toast, made by the American Ambassador, Mr William H. Crook at the annual Australia Day Luncheon in Melbourne Town Hall, a sign I think, that we have matured and grown a lot in the ensuing years.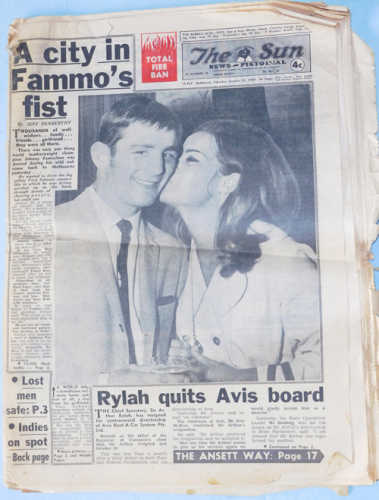 There's an interesting and rather unusual story on the sports page. West Indian fast bowler Charlie Griffith ran nearly a quarter of a mile, and the Australian score went up by 21 runs, in a sensational first over in the Fourth Test. Griffith's run-up was about 30 yards, a distance he had to cover 14 times! This was because he was 'no-balled' four times for over-stepping the crease and twice he baulked his run-up, not delivering the ball at all. In those days there were eight balls to an over, making the total of 14 run-ups, which at 30 yards a go, add up to the nearly a quarter of a mile!
Ad. Article continues below.
In the business world it was reported that Reckitt & Coleman were taking over Samuel Taylor Ltd, Bradmill Industries acquired King Gee Clothing Co. and Courtaulds raised their bid for Hilton Corporation to $2.30 a share. In response, Dunlop raised their bid to $2.35. Nothing really changes in the world of commerce, does it!
If it was entertainment you were after in 1969 you had a wide range of choices! Village Drive-In Cinemas were showing Rod Taylor in 'The High Commissioner', while Hoyt's were screening 'Around the World in 80 Days' in some of their cinemas and 'Duffy' starring James Coburn in others. If it was live theatre you were after, you could go to the 'Lido' to see their 'Brilliant Latin American Review, 'Copacabana'. Or how about a FREE concert by the Melbourne Symphony Orchestra at the Myer Music Bowl. There was something on at 'Her Majesty's Theatre which would be decidedly NOT Politically Correct today – the 'Black & White Minstrel Show'; perhaps to stop the black grease paint from running, the theatre advertised the fact that it was air conditioned! Then there was Ashton's circus, twice daily at Burnley Oval; Caribbean Gardens Ski Revue, every Sunday at Ferntree Gully and classes in Russian Ballet at the Borovansky Academy. I won't give you any more details – I'm sure I've made you too excited already, but there was plenty of other entertainment for anyone who wanted it!
Finally, the biggest difference between the paper of 1969 and today's offers. In 1969 there were EIGHT pages of jobs available, for all types of employment – imagine that sort of luxury today!
We've certainly come a long way since 1969, but not always in the right direction!
Ad. Article continues below.
Have you ever opened a time capsule? What was in it?
To write for Starts at 60 and potentially win a $20 voucher, send your articles to our Community Editor here.