On being a normal pensioner.... but what is normal?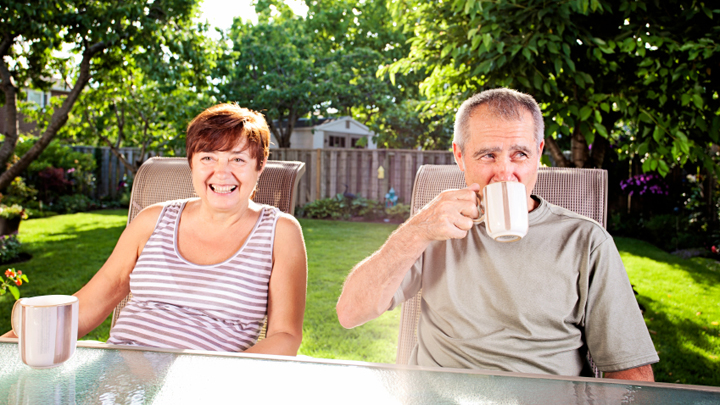 So for us, being a pensioner means coffee and conversation, writing and painting, continually juggling our money, struggling to keep the grass cut and the cobwebs at bay. Snoozing as we watch TV; getting out of chairs with some difficulty. Rare trips to see family, cooking good simple food, laughing at very silly things, and caring for two crazy cats. I also still like wild music and love clothes.
In my group of friends I know several who are comfortably off but still running a business, so they are busy and have money, but very little time. A couple of others have retired and are busy doing the overseas trips, cruises and exploring, working through their bucket lists. Widows who are trotting around Europe; or island hopping; spending the inheritance.
We are unable to afford holidays or too many trips away. We had some amazing years when life was easy; times when we lived in a beautiful apartment in the centre of Bath and my husband ran a business there. Life has altered over the last twenty years. We adjust as we have to. No longer rushing off to Paris or Menorca now, but we have seen a lot of Australia and I am so happy we did it while we could.
Food shopping is an important consideration; we shop at Aldi where the prices are suitable for our budget. We live from week to week sometimes, with a small burst of madness and excess if anything extra comes our way. We both paint and although we rarely sell anything, when we do we rush out and buy a nice meal or spend it on a small luxury. We are on a pension, which is all we have, so prescription medicine is at least affordable.
Ad. Article continues below.
Most pensioners have some health issues. We seem to share two similar afflictions, both of us have had slight heart problems and I see a specialist every three months. I also have rheumatoid arthritis. It does not impact too badly on my life, just a little pain in my fingers and sometimes a problem walking longer distances. Guess I am sort of lucky as it could be so much worse.
I plan the food we have, mostly simple things like chops, lasagne roasts, homemade soups and cakes; I try to batch bake now and then so the freezer has something for those busy days. It also saves me shopping and adding impulse buys in the shopping basket, as they add up!
Clothes we buy sensibly. I have written many times about my 'bargain buys' as I am an avid charity shop searcher, and also good at timing when sales are on. My husband bought a lot of clothes that have lasted well, as he was able to spend a little more when he was a council representative. Men's fashions hardly change and he is 80 now. As he says he had his trendy years.
Time is taken up with some writing, and painting. I also belong to U3A so find my days are structured by the activities, we have had "Family History" classes, Mah-jong sessions. Also I run a small art group Wednesdays, and on Fridays my husband also joins in for the Coffee Club held at a Bistro locally, always fun as we put the world to rights over a coffee. Lively discussion about politics, religion and even sex. No holds barred. Then the huge exciting event of the week: we go for a meal at the local hotel with our close friends. We put the money away for this so we can afford it.
Ad. Article continues below.
I watch less TV than my husband – I suppose for women it is always that way, there is always something to do; the washing, the ironing, the housework. I have not allowed myself to ask for help, so the dust remains in high spots in the house!
My husband in retirement is much more likely to do chores, when we were younger he never did. Or rarely did! Now he washes up and vacuums, which is an amazing help.
There are pensioners here whose life revolves around bowls or the church, bingo or the club, sport or saving money. Yes, we are all different, most of us have seen enormous changes in our lifetime, we are a generation that has had to evolve faster than any other, so take a bow just for surviving.
What's a day in the life like for you?