The evolution of the bikini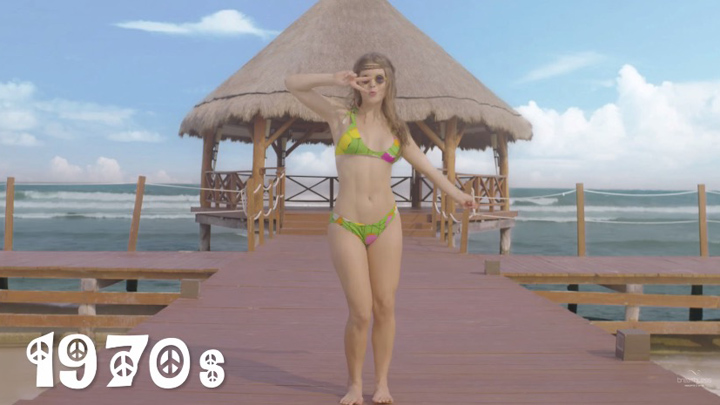 The modern bikini has been around since 1946 when two French designers launched their ranges. Jacques Heim's range was called 'atome' and Louis Reard's was the 'bikini'.
Heim's swimsuit covered the navel but Reard went above and beyond, creating a triangle design connected by two strips. The Bikini was advertised as "smaller than the smallest swimsuit"
They became a hit but drew criticism. Ever since, they have become smaller and smaller and even more revealing as they shrink.
To see how much they have evolved, video app Vine star Amanda Cerny has created a video of the past 100 years of swimsuits to see how the iconic two-piece swimmers came to be.
As you'll see in the video below, swimming costumes have changed dramatically over the last 100 years: jester-like attire in the 1980s, the shirt and shorts of the 1910s, the boylegged halter of the 1930s, the mini-cape of the 1940s, the yellow v-neck of the 1950s, the two-piece of the 1960s, the colourful bikini of the 1970s, the bright g-string one-piece of the 1980s, the high-waisted geometric of the 1990s, the balconette of the 2000s and finally, the skimpy fringed bikini of 2015.
Ad. Article continues below.
Check out the awesome video clip below and tell us, which was your favourite bikini/swimsuit?