The evolution of Neil Simon's 'The Odd Couple'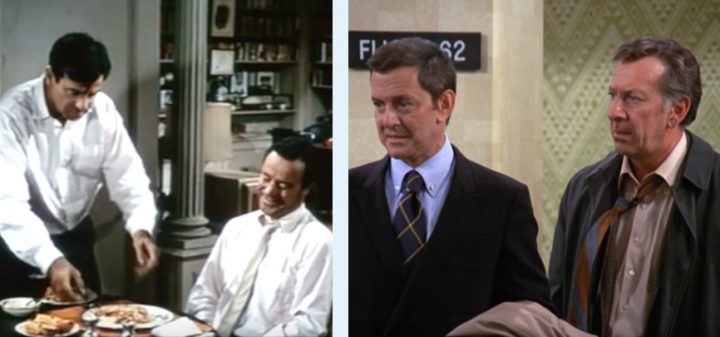 When Neil Simon premiered his 1965 play The Odd Couple on Broadway he was probably hoping for success but he probably wasn't prepared for two films, three separate sitcom versions, and a cartoon. Talk about getting the most out of an idea.
The original concept for the show came from Neil Simon's brother Danny. Danny had to go through a divorce and moved in with another recently single friend, agent Roy Gerber. Danny made dinner one night and completely ruined a pot roast. By all reports the next day Gerber jokingly said to Danny "Sweetheart, that was a lovely dinner last night. What are we going to have tonight?". Without skipping a beat, Danny said to Gerber, "What do you mean, cook you dinner? You never take me out to dinner. You never bring me flowers." The idea stuck with Danny who wrote an initial draft but thought he would hand it to his brother, Neil to complete and polish.
The first stage production of the show was directed by soon to be legendary director Mike Nichols and starred Walter Matthau as Oscar and The Honeymooners star Art Carney as Felix. The show was a huge success and won multiple awards. In 1967, Simon sold the rights to the play to film studio Paramount Pictures.
The first film version of The Odd Couple was made in 1968 and featured Walter Matthau reprising his stage role of Oscar and Jack Lemmon as Felix. The film was a massive success and sent the already famous actors to another level. They would reprise these roles in 1998 for The Odd Couple II, and this would also inspire the Grumpy Old Men films also starring Matthau and Lemmon.
With the movie being a huge success, Paramount was quick to cash in with a television version of the show. In 1970 the television version of The Odd Couple kicked off starring Tony Randall as Felix and Jack Klugman as Oscar. The show ran for five years and spawned a 1993 TV reunion film with the original cast.
Ad. Article continues below.
The only unsuccessful tie-ins to the series was a Saturday morning cartoon version entitled The Oddball Couple where the roles were played by a cat and dog. A reboot of the series in 1982 entitled The New Odd Couple was unsuccessful as they only updated some of the dialogs but kept the scripts untouched from the original series. It was cancelled after just 13 episodes.
Neil Simon's original play still continues to have a growing legacy as in 2015 a new television version of The Odd Couple which is produced and starring Friends alumni Matthew Perry and comedian Thomas Lennon. Perry stars as Oscar and Lennon as Felix. The show is a big success and has just entered into its third season.
What is your favourite version of The Odd Couple? Have you ever seen a stage performance of the play?