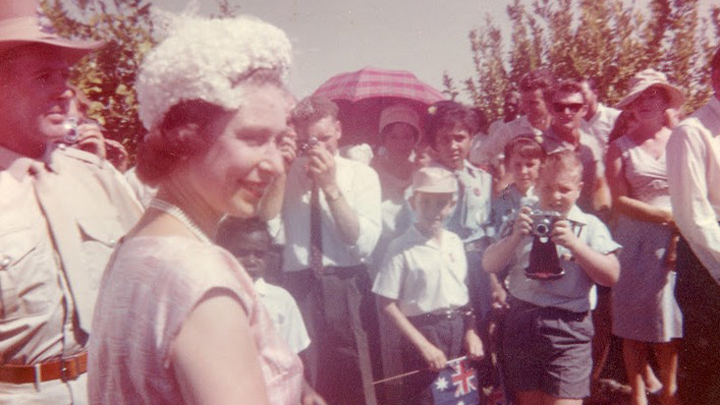 In 1963, my father was stationed in Alice Springs as an air traffic controller and the same year, the Queen visited us.
I was 10 years old and had heard much about Her Majesty – her visit was very exciting indeed. My parents, on the other hand, couldn't really care less. I told all my school friends that my dad would be one of the first to spot her plane coming in to our small local airport. I felt a sense of pride and joy, even at a young age.
When the day came for the Queen and Prince Philip to visit our humble Northern Territory town, I wanted to look the best I could in my school uniform. I attended Ross Park Primary School. I lined up at the showgrounds oval with the whole school and community as the Queen stopped and smiled at her fans. She looked amazing, and as she passed, I leaped the front and tried to touch her. She smiled at me and that's all I needed. I feel as if I met the Queen, maybe a little silly of me but in that split second, she saw me!
I remember it being very hot, as it always is in Alice Springs, and wondering how on Earth the Queen could wear such an outfit (sleeveless chiffon). I decided she had cold skin from England!
Queen Elizabeth II and Prince Philip of course weren't just there to come to our showgrounds, as I thought at the time, but they were there to see the Royal Flying Doctor Service of Australia base – Her Majesty even made a broadcast on the radio.
Ad. Article continues below.
I still look back on that day as one of my most fond in my childhood. A brush with royalty. I'm so pleased that the Queen has become the longest reigning monarch today – she's one of the only constants in my life, as silly as it sounds. She is one person I can rely on to stand regally at the other side of the world. I wonder if she remembers visiting us 50+ years ago and that little girl who couldn't wait to meet her.
Long live the Queen!
Tell us, have you ever had a brush with royalty? What happened?