'Sock it to me' with that hilarious TV show 'Rowan & Martin's Laugh-In'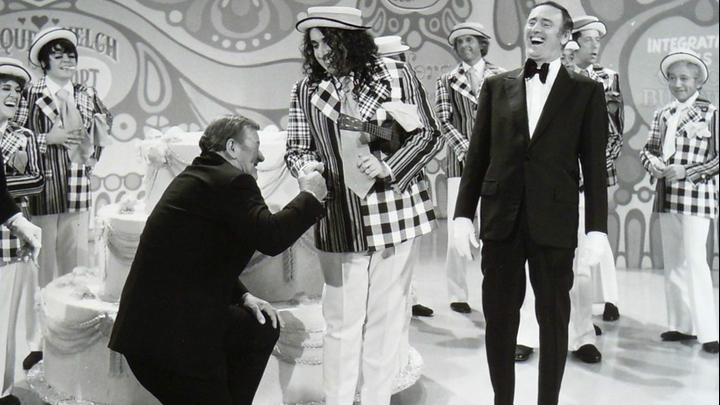 Recorded live in "beautiful downtown Burbank" Rowan & Martin's Laugh-In changed the way variety television comedy is done. It also helped launch the careers of some amazing talents including Goldie Hawn.
Ad. Article continues below.
The show was created by Digby Wolfe, Dan Rowan, and Dick Martin and was produced by legendary television producer George Schlatter. Rowan & Martin's Laugh-In entered into new territory as it strived to stand-out from other comedy-variety programs. Rapid cuts, including outtakes of sketches within the show, dance numbers, and celebrities dropping by to say the show's catchphrase "Sock it to me!" were all part of the appeal.
Produced by the use of computer editing all the rapid cuts, black outs, one-liner, and sketches were edited by hand which a fabulous fete for an hour-long weekly show. Originally, Laugh-In was a one-off special, but the incredible success of the show meant it was thrust into production immediately.
The show's popularity meant it was one of 'the' shows to be on for any celebrity or politician if they wanted to appeal to the greater population of the United States. Famously both Richard Nixon and Hubert H. Humphrey were invited to cameo on the program and utter the magic catchphrase. Humphrey declined, but Nixon said yes. Many experts credit Nixon's appearance on Laugh-In as a significant help in getting him elected president.
When it came to guest stars, you couldn't get much bigger than Laugh-In, which touted numerous appearances from Jack Benny, Johnny Carson, Sammy Davis Jr, Zsa Zsa Gabor, Peter Lawford, Tiny Tim, John Wayne, Flip Wilson, and Henry Youngman. It also featured some of the world's first music clips for bands like the Nitty Gritty Dirt Band, The Bee Gees, and The Temptations.
The show ran from 1968 to 1973 and made stars of many of the cast including Goldie Hawn, Lily Tomlin, and Henry Gibson and will go down as one of the best and more trail blazing comedy programs of all time.
Do you remember Laugh-In? Who was your favourite cameo guest?