Saturday Night Nostalgia: Elvis on the silver screen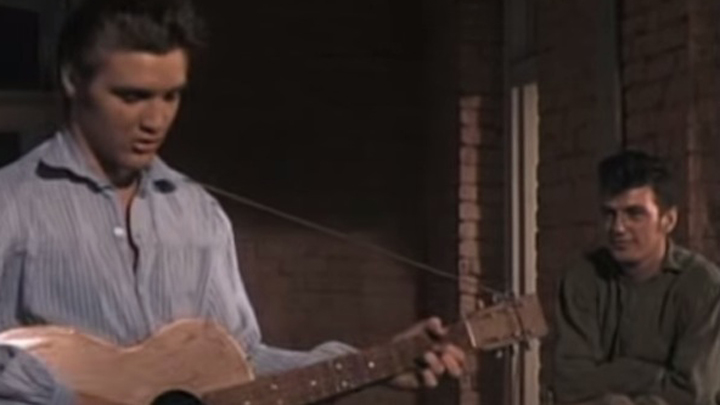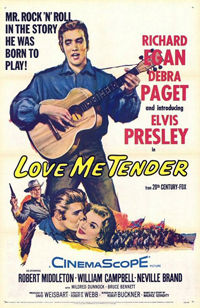 Today in 1956, Elvis Presley made his on-screen debut in Love Me Tender, the Western musical film. It sparked the huge success of the 'Love Me Tender' single, which was the first song ever to sell 1 million records.
In 'Love Me Tender', Presley plays Clint Reno, the youngest son of 4 in an Army family. The family is told that the oldest brother Vance has been killed in battle, only for him to return and find that his girlfriend has married Clint (Elvis). This issue carries on throughout the film as the family struggles to come to terms with the changes. The film continues to reveal problems between the brothers, including a robbery and shootout, where Elvis's character dies.
Elvis was known for his singing but he tried his hand at acting, with an impressive 33 feature films under his belt in less than 20 years. After Love Me Tender, Presley was conscripted to the army for two years from 1958-1960, before making his musical and theatrical return. The 1960 film G.I. Blues was a reimagining of his time in the US Army and its soundtrack spent 111 weeks on the Billboard Charts. By far the most popular film for Elvis Presley was Viva Las Vegas, an unofficial tune for the popular tourist city, which returned more than $9 million in profit.
Tonight in Saturday Night Nostalgia, we take a look back at Elvis's best films! Which was your favourite?
Viva Las Vegas
Ad. Article continues below.
Speedway
Love Me Tender
Ad. Article continues below.
Jailhouse Rock
G.I Blues
Blue Hawaii
Ad. Article continues below.
Girls, Girls, Girls
What is your favourite Elvis film? What about song? Tell us below.