Saturday Night Nostalgia: Celebrity brides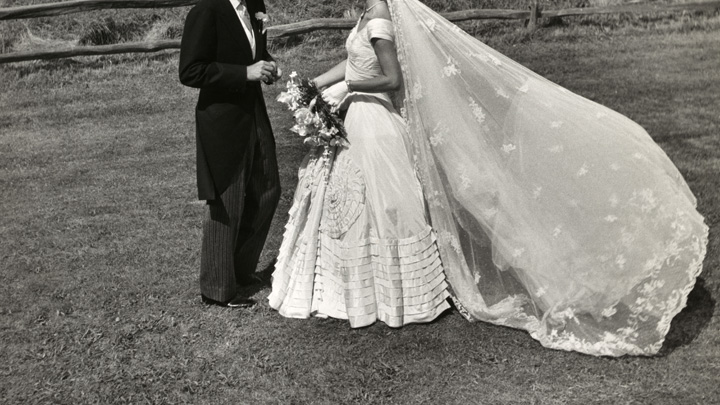 There's something special about a celebrity wedding. They are full of glitz, glamour and class – it's almost like entering our own little fantasy. The brides wear dresses you can only dream of wearing yourself and have the most extravagant ceremonies money can buy. Over the years, we have seen our favourite icons tie the knot, and tonight in Saturday Night Nostalgia, we look at the most stunning brides of all time. Which was your favourite?
Grace Kelly
Wedding: 1956 to Prince Rainier of Monaco
Dress: pearl-studded gown by Helen Rose; intricate silk, rose-point lace, tulle and seed pearls
Ad. Article continues below.
Bianca Macias
Wedding: 1971 to Mick Jagger
Dress: Yves Saint Laurent Le Smoking jacket with plunging neckline, plus a long skirt and hat.
Ad. Article continues below.
Elizabeth Taylor
Wedding: 1950 to Conrad Hilton
Ad. Article continues below.
Dress: satin gown with lace top and sweeping skirt
Elizabeth Taylor (Again)
Wedding: 1964 to Richard Burton
Dress: yellow chiffon dress with flowing sleeves and beautiful lily of the valley headpiece.
Audrey Hepburn
Wedding: 1954 to Mel Ferrer
Dress: tea-length Pierre Balmain dress with full sleeves, a high neck and circle skirt

Source: Chic Vintage Brides
Jacqueline Kennedy (nee Bouvier)
Wedding: 1953 to John F. Kennedy
Dress: designed by Ann Lowe. Fifty yards of silk taffeta made up the bodice and skirt, worn with her grandmother's veil.
Mia Farrow
Wedding: 1966 to Frank Sinatra
Dress: simple white shift
Princess Diana (nee Spencer)
Wedding: 1981 to Prince Charles
Dress: puff-sleeved, ruffled, silk taffeta gown, decorated with lace, embroidery, sequins, and around 10,000 tiny pearls
Marilyn Monroe
Wedding: 1954 to Joe DiMaggio
Dress: fur-collared brown wool suit
Natalie Wood
Wedding: 1957 to Robert Wagner
Dress: face-framing lace hood, white cocktail dress and ballet flats.
Priscilla Presley (nee Wagner)
Wedding: 1967 to Elvis Presley
Dress: pearl-trimmed self-designed with non-form-fitting silhouette
Who was your favourite celebrity bride of all time? What type of dress did you wear to your wedding? Share with us below!