Queen Elizabeth II opened the Sydney Opera House 44 years ago today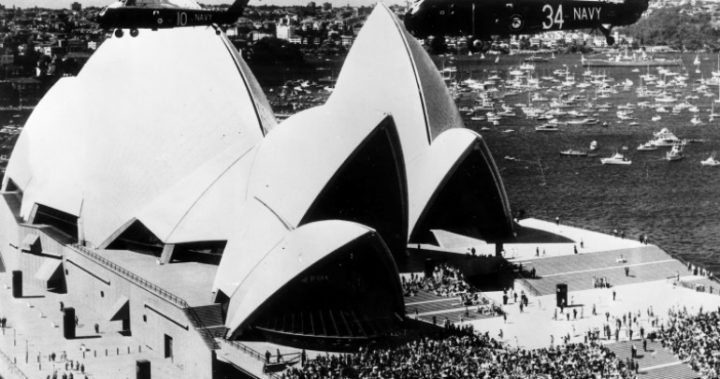 Did you know that today marks 44 years since Queen Elizabeth II opened the Sydney Opera House?
On October 20, 1973, the now-iconic structure on the picturesque harbour of Sydney was officially revealed to the world with a lavish ceremony.
Complete with fireworks, celebrities, royals and musical performances, the day was one of the most anticipated on the calendar in the 70s.
If you were living in Australia at the time, you'll know that it was a miracle the construction of the Opera House ever got off the ground.
Ad. Article continues below.
In addition to being one of the most difficult architectural designs of its era, politics, construction problems and money issues dragged out the completion of the Opera House for more than a decade. At one point, the original designer Jørn Utzon even quit the project, leaving the government scrambling to complete the building.
It ended up costing $102 million instead of the original $7 million that was estimated when a design competition was launched back in 1955.
Still, thousands of spectators crammed Circular Quay in Sydney to catch a glimpse of the festivities on opening day, including many who were lucky enough to watch from boats on the water.
Ad. Article continues below.
The ABC broadcast the ceremony on Australian TV, while around three million people from around the world also tuned in to catch the proceedings via satellite.
In her address to the crowd, Her Majesty acknowledged the problems that plagued the completion of the structure: "The Sydney Opera House has captured the imagination of the world, though I understand its construction has not been totally without problems.
"I congratulate the people of Sydney and indeed of Australia on this remarkable addition to its architecture and to its cultural and community life."
Over eight million people now visit the Opera House each year, not to mention that it makes a pretty amazing backdrop for the New Year's Eve fireworks. It also hosts some of the biggest musical and theatre acts in the world when the travel Down Under.
Ad. Article continues below.
Unsurprisingly, the United Nations even added it to their World Heritage List back in 2007.
Maybe you've been lucky enough to attend a concert or show at the Opera House over the years, or perhaps you've got some great family memories from your time on the harbour.
Were you at the Opera House for its grand opening or do you remember watching it on TV?