Looking forward to Australia Day 2017 by hilariously looking back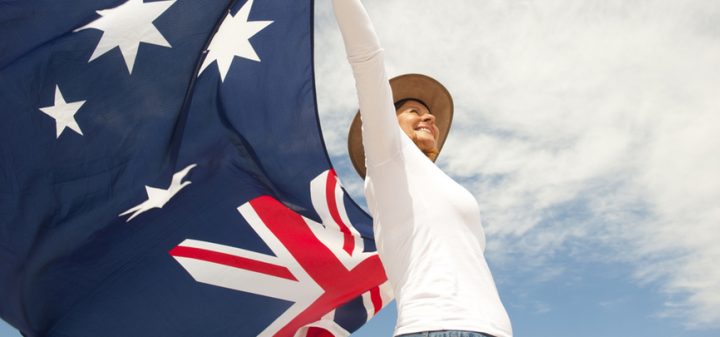 With many looking back over the sadness of 2016 and looking forward to a new start of 2017, there are many looking forward to Australia Day already.  We thought it would be fun to look back at the best Australia days gone to keep the hope alive for a great one in 2017.
I remember Australia Day in the old days, and it wasn't so long ago because it really only fell into national step in the 90s. The earlier years of Australia Day were nothing like they are today and that's OK. My memories are special, sacred even, of a simpler time, and it's a time I remember fondly. Do you?
Australia Day would always start with a good fry-up in my family – bacon, eggs, baked beans and toast would celebrate the arrival of a public holiday with Dad off work and no school ahead of the school year.
The morning tea was lamingtons, from the local bakery; a rare treat for our family of five. We'd buy six and fight over the last one.
The afternoon was often a garden celebration, including family and whoever was around. The highlight of this was bringing out the old metal bin and setting up a match of backyard cricket.
Ad. Article continues below.
While the kids were playing in their asbestos-sheet (suspended in a tree) cubby, drinking from the hose, running around in the sun with no suncream, the adults would sit by the blow up rubber pool and celebrate what it meant to be Australian. "What a great country we live in," we'd say, despite the massive recession and 17 per cent interest rates.
Great pre-dinner snacks on Australia Day were Jatz crackers, cabana, French onion dip and cubed cheddar; none of that posh French stuff. The oysters were actually smoked, mussels and they came from a tin, and dessert was Aunty Esse's pavlova recipe, made from a splurged-for pavlova egg and topped with one fruit type, not a tropical plantation. That was lavish!
Dinner was cooked on a brick barbecue made by dad in the centre of backyard – bricks piled up unceremoniously, with a cast iron sheet on top. We got things started by burning off our household rubbish, then, when the coals had formed we got our snags out and grilled them on what would be considered a health hazard of a cast-iron plate, burned plastic fumes and generally poor hygiene.
The men smoked like chimneys, and the women adored their wine from a cask – it was the posh thing to do back then.
Boy, hasn't it changed over the years? In just 30 years, Australia Day has turned into a highly commercial and nationally organised event, not unlike American Independence Day. There are fireworks, festivals and fabulous champagne in every city to be enjoyed, and we can all buy a shirt made in China (potentially missing Tasmania and with the Southern Cross the wrong way around) that tells us about the significance of the day.
Aren't you proud to be Australian?  I am.
Add your own stories below of what Australia Day was like in your day… Let's remember all the fun, celebrate all the wit and enjoy our sunny, special day.