Looking back at when the Food Sealer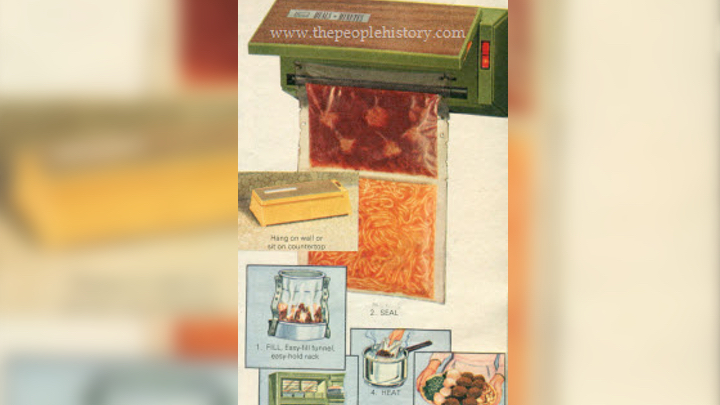 In the 1970s there seemed to be a gadget and gizmo craze that focused around the kitchen.  The trash compactor that would package your trash into a sealed paper bag, the sixteen-speed blender and the Teflon coated popcorn popper dominated the product landscape.
Ad. Article continues below.
The 1971 Food Sealer was a to revolutionise the art of cooking and food keeping.  It's based on the French cooking style of sous-vide, which is boiling food in airtight bags.  The product is described on thepeoplehistory.com as:
"Seal and freeze almost any dish. Great for saving leftovers. Busy homemakers can cook foods at their convenience, serve later. To reheat food, drop frozen bag in boiling water. Foods cook in their juices in minutes with original flavour and nutrients. It has dozens of other uses too: seal silver; melt cheese or chocolate; sportsmen can seal bait or matches. New two-light system tells when unit is on and when it's ready for use. Comes in curry yellow or parsley green."
Did you have one of these amazing gadgets in your house?  Do you still use one or one like this one?  Did it change the way your cooking?