It's been 48 years since 'Sugar, Sugar' by The Archies went number one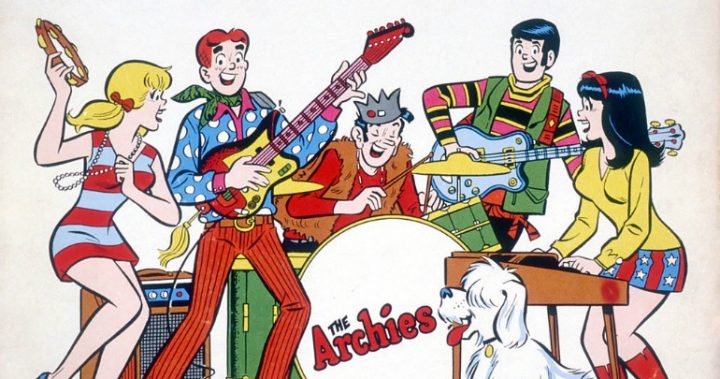 There's no denying that the music we listened to in our youth is dramatically different from the tunes our kids and grandchildren are listening to these days.
In fact, today marks 48 years since 'Sugar, Sugar' by The Archies topped the charts around the world.
What made the band so ground-breaking was that they weren't even real – they were based on cartoon characters from the hugely popular Archie comics book series, which first hit shelves way back in 1942.
You probably remember reading the comic or seeing it at a news agency or supermarket as a kid. It's still in print today, although some changes have been made to make it more marketable to today's generation.
The series was about a group of wholesome American teens and became so popular that it was eventually turned into a cartoon television series in 1968.
Ad. Article continues below.
The Archie Show beamed Archie, Jughead, Betty, Veronica and the rest of the Riverdale gang into millions of homes around the globe.
One of the big storylines was that the teens were in their own garage band. They went on to release "Sugar, Sugar" as a single in the real world, which was a critical and commercial success.
For eight weeks, it was the top song on the UK Single charts, while it also spent four weeks at Number One on the American Billboard Hot 100 Chart. It also held the top position in Austria, Belgium, Canada, Germany, Ireland, Norway, and Spain. In Australia, the track peaked at Number Five.
It went on to sell over a million copies in the UK and US, while millions more were given away as a prize on the back of cereal boxes to coincide with the show's popularity.
Ad. Article continues below.
The song was so well-received that it's actually the 78th biggest single of all time in the States. Not bad for a gang of cartoon kids.
The vocals were actually sung by Andy Kim, Toni Wine, and Ron Dante, although the song has been covered by an array of different artists over the years.
You may be familiar with versions by Tommy Roe, Alex Chilton, Ike and Tina Turner, and even Bob Marley.
More recently, it was performed on hit teen drama Riverdale by Josie and The Pussycats.
If those names sound familiar, it's because they're both part of the Archie comics book universe.
Ad. Article continues below.
In a classic case of old becoming new again, Archie and his pals have been reinvented to appeal to a whole new generation.
While the show stays true to many aspects of the original comics, it's a lot grittier and not as innocent as the characters we grew up with.
The first series revolved around Archie and his pals as they try to figure out who murdered their teenage pal. It also included plenty of blackmail, love-triangles, a teacher-student relationship, violent gangs and lots of backstabbing. The second series just started streaming on Netflix.
Do you remember reading the Archie comics when you were younger? Were you a fan of "Sugar, Sugar"? How do you feel about Archie being reinvented to appeal to your own children or grandchildren?