It was 42 years ago today that Queen released 'Bohemian Rhapsody'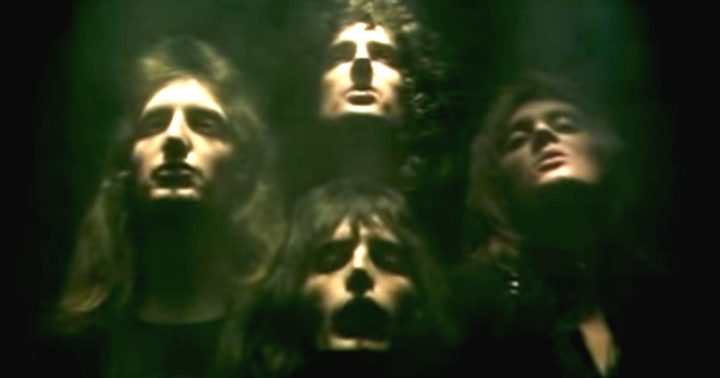 Do you remember the first time you ever saw the music video for Queen's 'Bohemian Rhapsody'?
To say it's one of the most iconic music clips of all time would be an understatement. The song cemented Queen's place as one of the most loved bands in the world.
It was originally shot on this day in 1975 – at a time when shooting specific videos to accompany the release of a song was a relatively new concept for musical artists, rather than just using a live recording of the single.
That all changed after 'Bohemian Rhapsody' topped the charts around the globe and in many ways, changed the face of music forever. Many believe that Queen paved the way for future musicians to use their artistic side to represent their music in a visual format.
Ad. Article continues below.
The video clip begins with Brian May, Freddie Mercury, John Deacon, and Roger Taylor singing acapella, before focusing on each of the members playing their instruments. At various moments throughout the clip, it flashes back to the four men in their original standing position.
Read more: Queen's Bohemian Rhapsody as you've never heard it before
Watching it back these days, it's still as powerful as it was when it made its debut 42 years ago. We're totally guilty of trying to mimic Mercury's iconic high voice at more karaoke nights than we care to disclose!
It is believed that the original video was shot in only four hours on a budget of just £4,500 (A$7,743, U$5,926). In today's age, it's not uncommon for artists to splash millions on their extravagant clips.
Upon its initial release, 'Bohemian Rhapsody' hit number one in Australia, Belgium, Canada, New Zealand, the Netherlands, and the UK.
Ad. Article continues below.
It also cracked the Top 10 in Austria, Germany, Norway and Switzerland.
Read more: This Queen cover will send shivers up your spine
The song continues to inspires new generations, too. Back in 1992, it was re-released after featuring on the soundtrack for cult film, Wayne's World. More recently, it appeared on the Suicide Squad soundtrack last year. 
It's one of the most-viewed clips on YouTube, with the official video having been watched more than 446.2 million times.
And, despite Freddie Mercury's passing in 1991, Queen has continued to tour the world. They're currently touring North America and Europe with American Idol alumni Adam Lambert standing in for Mercury.
We think we're going to start our day off by listening to the song again!
Did you ever get the chance to see Queen live? Which of their songs is your favourite?