Hop in 'Woody' and let's take a trip back to 'The Mod Squad'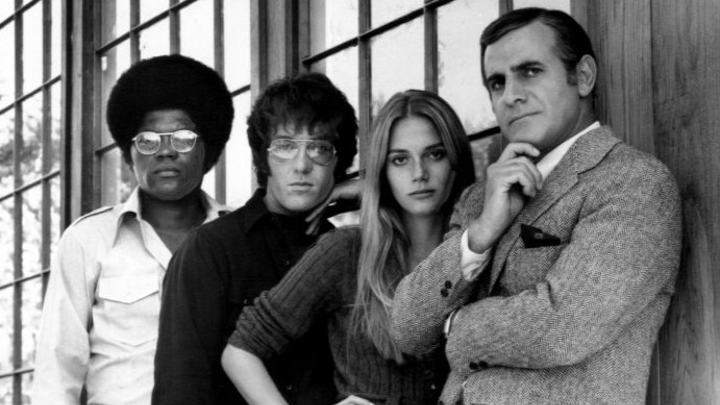 The Mod Squad broadcasting five innovative seasons from 1968 to 1973. When it broadcasted in Australia it won a Logie for Best Overseas program for four of them.
The reason that The Mod Squad was so innovative for its time is that it cast young hip actors as the heroes. Each character was a representative of the youth culture at the time and having them on screen was refreshing for a generation of people whose parents only watched Dragnet.
This formula brought the actors, Michael Cole (Pete Cochran), Clarence Williams III (Lincoln "Linc" Hayes), and Peggy Lipton (Julie Barnes) into stardom. They were almost dwarfed in popularity by The Squads car a 1950 Mercury Woodie station wagon named, appropriately, Woody.
Racism and Stereotypes were still rampant at the time so for a TV Show from a major studio putting the African-American character link on equal footing, and equal billing, as the Caucasian characters it was a true sign that the Hollywood system was changing.
Ad. Article continues below.
Hollywood producing powerhouse Aaron Spelling produced the program with his partner Danny Thomas. Aaron fought the studio on a number of race related "problems" that they had. One of these fights was over a "friendly kiss" that Linc gave Barnes. The controversy from the first interracial kiss in the US only happened a few years earlier on Star Trek the studios were still concerned. Aaron said in his book Aaron Spelling: A Prime-Time Life "'You can't do that,' I was told. 'You can't have a black man kissing a white girl.' I won and ABC agreed to let it in, but they warned me I'd receive thousands of complaint letters. I didn't get one."
After it's run the team was put back together for a reunion show The Return of Mod Squad in 1979. There was a feature film version made in 1999 but it couldn't capture the magic of the original.
Where you a huge fan of The Mod Squad? Who was your favourite member of the Squad?