Giving all of your loving to 'Young Talent Time'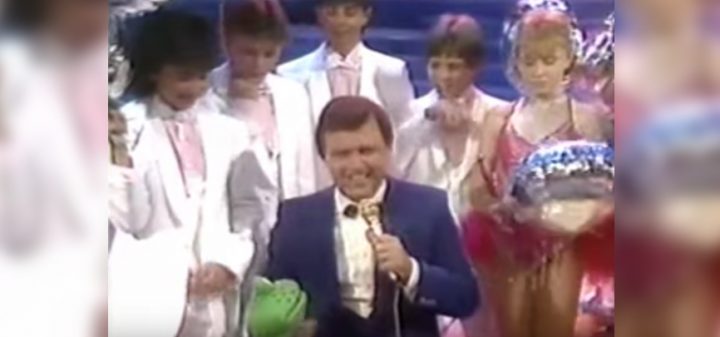 From 1971 to 1988 there was a program that nurtured the young artists of Australia while giving them a platform to share their talents with the whole county. That program was Young Talent Time, and for 804 episodes Network Ten made a TV icon of host Johnny Young and stars like Tina Arena.
The premise of the program was simple as young singing talents doing covers of some of the day's best pop songs. The show was developed by singer Johnny Young and Kevin Lewis from Festival Records.
Unfortunately, a lot of the early episodes don't exist. As with a lot of the shows of the time the master tapes that had the shows were wiped after broadcast to make room for more programs. The early episodes are spotty in their archive.
The show was responsible for 15 albums, three top of the chart singles and a massive nine Logie wins. Young Talent Time won the Best Australian Musical Variety Show in 1971, 1973, 1974, and 1975. Debbie Byrne picked up two Logies for Best New Talent, and Johnny himself was awarded a Hall of Fame Logie honour in 1990.
The show worked because of the incredible young talent in the series like Tina Arena, Dannii Minogue, Joe Perrone and Karen Knowles as well as the guest stars wowed the audiences with their performances. Such guest stars as John Farnham, Graham Kennedy, Nicole Kidman, Dame Edna Everage, Davy Jones and Micky Dolenz from The Monkees, Phyllis Diller, Debbie Reynolds, Kylie Minogue, Johnny O'Keefe, Peter Allen, John Paul Young, Kamahl, Renee Geyer, Denise Drysdale, John Williamson, and Australian music icon Ian 'Molly' Meldrum.
Ad. Article continues below.
While the kids and the guest stars made the show great, it was the good night tradition of Johnny singing 'All My Loving' to the audience and the young talent and saying "good night" to everyone.
A show that has left its mark on a number of generations of music lovers and through the talent that it helped get into the business continues to give to this day.
What was your favourite Young Talent Time performance or performer?