Bam! Pow! Batman and Robin burst on to screens 52 years ago today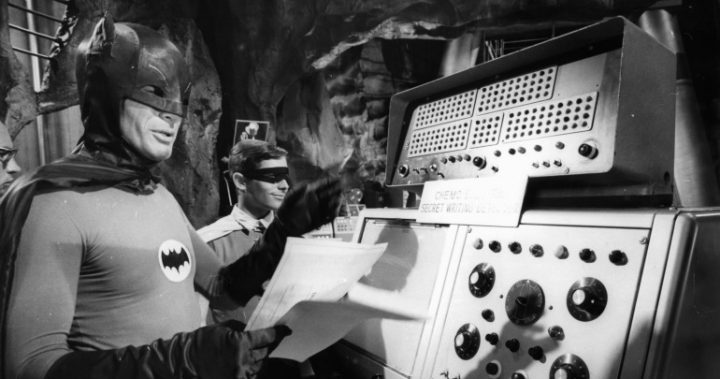 A phenomenon began on January 12, 1966, when actors Adam West and Burt Ward first appeared as the dynamic duo, Batman and Robin, in the television series Batman.
At the time, the DC comics were extremely popular, so the American Broadcasting Channel (ABC) decided to capitalise on the books by bringing the heroes to the television screen. (Batman first appeared on the ABC in Australia on June 28, 1967.)
The format of the show became famous for its cliff-hanger episodes that kept many children, and adults, on the edge of their seats. Many will remember waiting to see if Batman and Robin would escape the devilish plans and schemes of their enemies.
The show became famous for its catchy theme song, humour, simplistic morality and catchphrases. Each week there was a special guest villain that Batman and Robin, better known as the 'Boy Wonder', had to defeat.
Today, the Joker is arguably the most popular of Batman's nemeses, having got plenty of prime time exposure in more recent movies. But in the original Batman series, it was Catwoman and the Riddler that audience tuned in for most keenly, followed by King Tut, Egghead and the Penguin.
Ad. Article continues below.
Aimed at teenagers, the show included a number of wholesome messages embedded in the crime-fighting action. While kids enjoyed Batman's antics, they were fed messages about finishing homework, using seat belts, eating vegetables and drinking milk.
Batman was an immediate success, after the first episode that featured the Riddler blowing up a harmony cake and Batman and Robin working against to clock to work out the Riddler's shifty scheme. 
The campy take on the comic book made the audience laugh and the action sequences with the over-the-top bangs, pows, bams and zonks kept kids enthralled. The first episode also introduced audiences to the 'Batusi', a dance that Batman performed after being drugged by one of the Riddler's henchmen.
Soon DC Comics saw a surge in the number of people wanting to read about Batman. (Superman had been the most popular comic until that point.)
Unfortunately, the show only lasted three seasons. In March 1968, ABC cancelled the show ,but rival US station NBC was more than willing to take on the show for a fourth season.
Ad. Article continues below.
That deal fell through when it emerged that someone had destroyed all the Batman sets but Adam West and Burt Ward went on to star in a number of Batman movie and television specials in their super-popular roles.
Where are the stars today? Adam West, 88, died on June 9, 2017, after a battle with leukaemia, but at 72, Burt Ward still makes appearances at comic conventions to talk about his time on the show.
Do you remember watching Batman as a kid? Who was your favourite character?