A musical diary: January 1960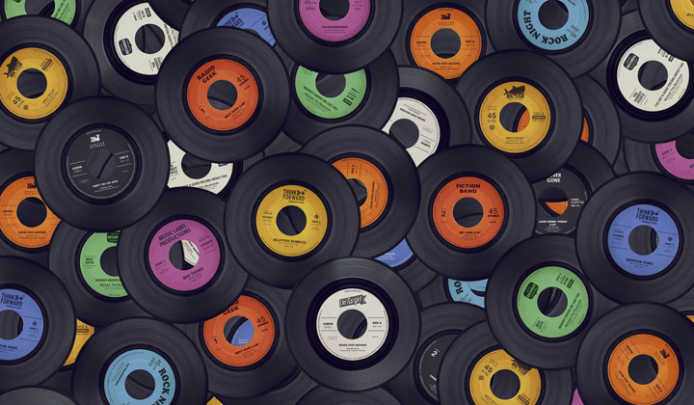 The 60s was probably the most exciting era, not only for music but for changes overall.
Teenagers, who before were supposed to be seen and not heard, definitely were heard later in the decade.
But 1960 is usually considered as a weak year in the music industry. All the excitement was fading away; the big heroes of rock 'n' roll were absent. Elvis Presley leaves the army, his wild days all but over and the King was now an all-American boy. Buddy Holly was dead nearly a year now. Little Richard gave it all away to become a preacher. The new pop stars were the clean-cut boy-next-door type like Fabian, Brian Hyland, Bobby Vee, Bobby Rydell and Frankie Avalon, who incidentally started the year at number one in the USA with "Why" which was covered, with great success in the UK by Anthony Newley.
In Australia, Bill Haley and the Comets were still going strong and finished off eight weeks at number one with "Joey's Song", not what you would call rock 'n' roll. In the UK an unusual occurrence with two records vying for number one with almost similar titles, "What Do You Want to Make Those Eyes at Me For?" by Emile Ford and the Checkmates and "What Do You Want?" by Adam Faith. The USA top of the pops had the very successful couple of records "El Paso" by Marty Robbins and "Running Bear" by Johnny Preston, coincidently this was written by The Big Bopper who tragically died with Buddy Holly and Ritchie Valens.
Johnny O'Keefe, with a few thousand boomerangs in his luggage, went to Los Angeles to record "She's My Baby" and by the end of the month it became the first number one in Australia by a local artist, recorded internationally. The Americans at Liberty Records in their dubious wisdom billed him as "The Boomerang Boy" and boasting that JOK was the most famous boomerang thrower in Australia, later they had a competition and Johnny finished last. Johnny was still having incredible success in Australia where his show "6 o'clock Rock" was in its second year.
Ad. Article continues below.
Jimmy Jones had been around the music scene since the mid-50s, singing lead for several groups before launching a solo career that until now was notably unsuccessful, but now the falsetto dominated "Handyman" will reach number two and the follow-up "Good Timin'", number three. Brook Benton continues his R&B success, duetting with Dinah Washington on "Baby You've Got What It Takes". This will spend eight weeks at number one.
Sam Cooke signs for RCA Records. This new label will bring him his biggest hits since "You Send Me" in 1957, among them "Chain Gang", "Twistin' the Night Away" and "Another Saturday Night". Meanwhile Jim Reeves enters the charts with his biggest hit so far, "He'll Have to Go". It's a fitting epitaph for the month; Dinah Washington, Sam Cooke, Jim Reeves and Eddie Cochran will be dead before the decade is over. On the 8th of the month Eddie Cochran makes his last recordings at the Goldstar Studios in Los Angeles, backed by The Crickets he records a number of songs, one of which was "Three Steps to Heaven". Sadly as the events of April 17, 1960, will show this was a very ironic title. The following day he arrived in England to start a UK tour with Gene Vincent. Other artists on this tour were Georgie Fame, Tony Sheridan, Joe Brown & the Bruvvers, and Billy Fury. On the 16th Cochran, Vincent, Fury and Brown all appeared on BOY MEETS GIRL recorded in Manchester; it was Eddie's UK TV debut. On television we were watching Bonanza, Rawhide, Danger Man, 77 Sunset Strip, and in Australia
Brian Henderson's Bandstand was in its third year.
Michael Hutchence, later of INXS fame, was born on 22nd January and Elvis Presley was promoted to sergeant on the 14th January. On the 3rd Michael Snipe lead singer of REM was born.
Ad. Article continues below.
A quote from the month of January 1960, "If I am this good now, what will I be like at Sinatra's age?" – Bobby Darin, sadly we will not find out.
The number ones in January
Australia
2nd – "Joey's Song" – Bill Haley and the Comets
Ad. Article continues below.
9th, 16th, 23rd – "Boom Boom Baby" – Billy "Crash" Craddock
30th – "She's My Baby" – Johnny O'Keefe
USA
2nd – "Why" – Frankie Avalon
Ad. Article continues below.
9th, 16th – "El Paso" – Marty Robbins
3rd, 30th – "Running Bear" – Johnny Preston
UK
2nd, 9th, 16th, 23rd – "What Do You Want to Make Those Eyes at Me For?" – Emile Ford & The Checkmates
30th – "Starry Eyed" – Michael Holliday
Ad. Article continues below.
The top ten in Australia – January 1960:
"Boom Boom Baby" – Billy "Crash" Craddock
"Joey's Song" – Bill Haley and the Comets
"Heartaches by the Number" – Guy Mitchell
"In the Mood" – Ernie Fields
"Shout" – Johnny O'Keefe & The Delltones
"Seven Little Girls (sitting in the back seat)" – Paul Evans & Curls
"Oh Yeah" – Col Joye & The Joy Boys
"Morgan (One More Sunrise)" – Ivo Robich & The Songmasters
"Mr. Blue" – The Crescents
"She's My Baby" – Johnny O'Keefe
What was your favourite song of 1960? Which brings back the most memories for you? Tell us below.