Never too old to use technology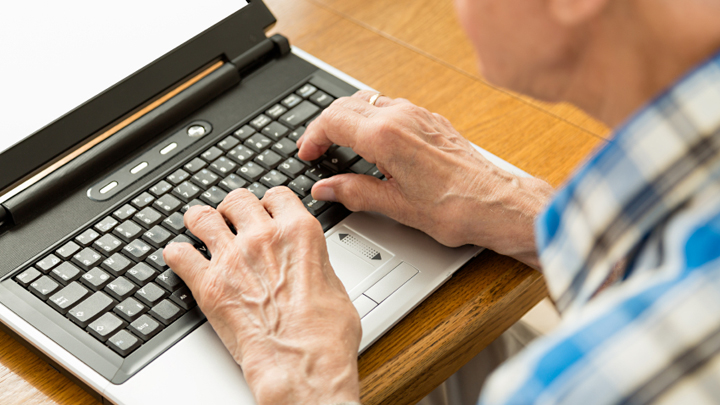 I first got into technology as a practicing graphic designer many years ago when I was working in Hong Kong. Using a computer for designing publications and annual reports made life much easier but also brought more stress and difficulties.
On one side the middleman was cut out altogether and the typesetter was soon redundant, however the responsibility was now on the designer to format and design text. It became difficult because once clients realised this it meant there was no end to changes and corrections.
Coming to Australia and working in publishing meant that I had to keep up with the constant changes and upgrades to software and had to keep abreast – I wasn't a stranger to technology, but became a slave to it.
During my years at TAFE, working in education meant it was inevitable that keeping records, monitoring progress including teaching design online relied very heavily on the ever changing world of technology. It was a far cry from the past world of telex and fax to the present glut of emails, instant messaging and selfies.
I got into social media mainly to keep in touch with an ever increasing circle of friends worldwide and it was lovely to see and read of who was doing what and where. Yes, I got sucked into Facebook. The novelty though has since worn off!
Ad. Article continues below.
Four years ago, I applied online for Masterchef Australia. As an avid fan of cooking shows and a very keen amateur cook I decided to try for it at the insistence of friends and family – not knowing what lay ahead.
I got through the auditions, into the top 50, then the top 24 and the rest, as they say, is history. One of the conditions of the show was that we were isolated from the public and family and also kept way from all forms of media, including social media. As almost all the contestants are young, social media was a big part of their lives and as we know most young people have a smart phone permanently attached to their palms. Because we lived in isolation in a heavily controlled Masterchef world we had no idea of public opinion and the public reaction to the show. It only surfaced on the few production breaks when we were allowed home.
I was informed that there were a few Facebook fan sites in my name and was then included in a small group who had very little knowledge of social media or how to use it and taught how to manage it effectively – until then I had absolutely no idea of the power of the media. The following year I was invited to be part of Masterchef All Stars, and was then introduced to the worlds of Twitter and Instagram. I was able to get a couple of FB fan pages shut down and got management rights to the two remaining in my name and my official fan site. They were kept on as it was publicity for the show.
I have had almost no negative experiences with the use of social media – there have been a couple of crazies, but you learn how to deal with these – a delete button has its uses!
Ad. Article continues below.
On the positive side though it has had many benefits, and one soon learns what to post and what not to – the best way of learning is by making mistakes. The year I got into Twitter I was holidaying in England, and made the mistake of tweeting to a friend about my travel plans around the country. This was picked up by a fan who got in touch and asked if I would do a cooking demo in the part of the country I was visiting.
One thing led to another and before I knew it an event was organised, a poster was designed and I got to cook with the freshest seafood from England's South West, and had a great evening. All because I mistakenly didn't send a direct message but put it on the public domain.
I have been able to make contact with long lost friends, and make many more new ones, and have had many work opportunities both in Australia and overseas. Yes, but even though I have benefited from social media, I am now very cautious about what I post and to whom and where.
I now post regularly on Facebook, Twitter and Instagram and update my website regularly. Yes it is a lot of work but I know and realise that it is only as difficult as I want it to be and I can choose how much I want to put out, the power is in my fingertips.
How did you first get into social media? How has it change your life? What have your learnt from it? Tell us below.