Navigating the Route 93 on the way from Jasper to Lake Louise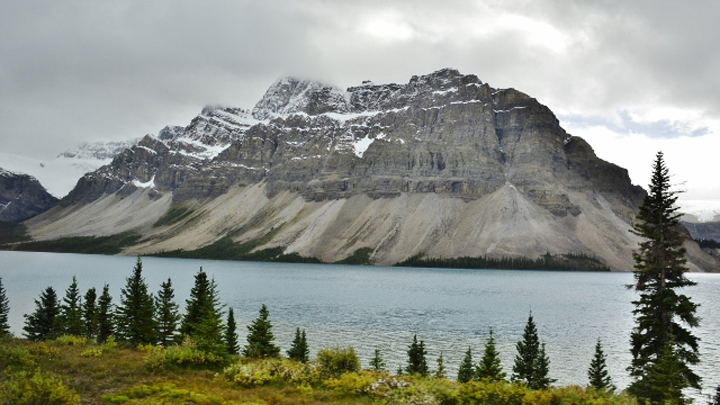 We do a couple of diversions early, first to the impressive Maligne Canyon, a classic slot forged by glacial waters, and then the roaring Athabasca Falls where the river plunges dramatically through an abyss. The noise is deafening and it's scary to realise that this season has been a relatively dry one; normally there'd be twice as much flow in the river.
Then we're sailing along the Route 93, the Icefield Parkway. I've done my share of travelling but nothing, repeat nothing, has come close to this spectacular drive through the countryside.
Rugged peak after rugged peak rolls by, all begging to have their photo taken. Shutters frantically go up and down as the passengers are agog at the spectacle on either side. It's everything you imagined the Rockies to be and more. It's 232 kilometres of dramatic rock spires, remnants of 100 glaciers cascading down, feeding rivers like the Columbia and Kootenay. Breathtaking is a word that seems inadequate but that's what it is, even with the cloud cover we're experiencing today.
Anything below 9,000ft hardly rates a mention here while dozens climb above 11,000. Hillsides are strafed by rockfalls and the crumbling strata up top feeds them on a regular basis, all mimicked by the glaciers doing exactly the same thing. Somehow I can't get my head around the rivers of ice, the fact that they're 90 metres thick and moving, yet the evidence is clear. Other bits of snow and ice highlight the layers, from Devonian to Cambrian, that are all here, filled with fossils from aeons ago, raised thousands of feet into the sky by forces beyond our comprehension as plates overlap to irrevocably and continually change the face of the planet.
Ad. Article continues below.
About half way there's a big break at the appropriately named Icefield Centre. Here we get to walk on a glacier called Athabasca. To get there we have to board what could loosely be called a "bus" whose tyres alone cost $5,000 while the entire vehicle was purchased for 1.3 million. Only 27 were ever built and this company owns 26 of them.
At one stage we drive down North America's steepest dirt road – at 32 degrees it's seriously steep and the female driver cautions us to fasten our seatbelts then laughs as we scratch around – there aren't any.
Then it's our turn to step onto the ice and we're slip-sliding away across the surface. On our left Mount Athabasca and Andromeda tower above while on the other side is one of the world's unique mountains, Snow Dome.  From its ramparts water trickles into three different oceans, the Pacific, the Atlantic and the Arctic. I find it extraordinary standing up here and trying to visualise such a thing.
Despite the crowds, it's an awe-inspiring place and the streamlets that spawn great rivers are all around us cutting beneath the blue ribbons of ice, starting their journeys of thousands of kilometres. 
Then we're off to the nearby Skywalk, one of those glass walks that loop out over a deep canyon, just the thing for our acrophobic Lorraine and our equally acrophobic tour guide Michelle who both initially decline all attempts to coax them.
Ad. Article continues below.
We're gazing down into the Sunwapta Gorge where waterfalls sprout from the earth and crash into the young river. Apparently they were once streams but have been covered by rock slides that haven't diminished their flow, just sent it in different directions beneath the stones. There are small trees on some of the slopes; they may be 60-70 years old but, because the growing season is so limited, they only stand as high as a 3 year old eucalypt in coastal Australia.
Then I'm shocked; first Lorraine and then Michelle, firmly gripped by males, are doing the walk. Okay, so Michelle has her eyes closes until the very end and Lorraine has the appearance of someone on execution row, but at least they're doing it, all power to them I say.
A shuttle back to the Icefields Centre and we're in the hands of Lenny once again; it's not long before he turns off to Peyto Lake, named after one of the great characters of historical times who was a noted guide in the area. Peyto is one of the great photo opportunities; an almost barren buttress plunging into turquoise waters separated by a green line of vegetation and topped by strips of snow on high. It delivers its promise and the whole time you're there your eyes continually drift to the sublime colour of the lake. It's here Maureen, one of our tour group, decides to don her Davy Crockett hat she just purchased. There's usually one in every crowd I'm told.
We cross over the Bow Pass next, in itself worthy of a stop but we continue, bug-eyed at the mountains around as the road curves beyond 180 degrees revealing the Wapta Icefields in all their glory.  Bow Lake looms up and not too much later we pause for a break, gathering our thoughts and gaining a respite from the unrelenting overwhelming scenery.
Crows Foot Mountain is across the way and I imagine its claw splicing the rock and leaving a lasting image, just like the impression the Icefield Parkway has left on me.  Once on a tour similar to this, I took 600 photos in a day and remember thinking how excessive that was. Today I shot 900.