My weight loss journey: Vege soup and my ongoing successes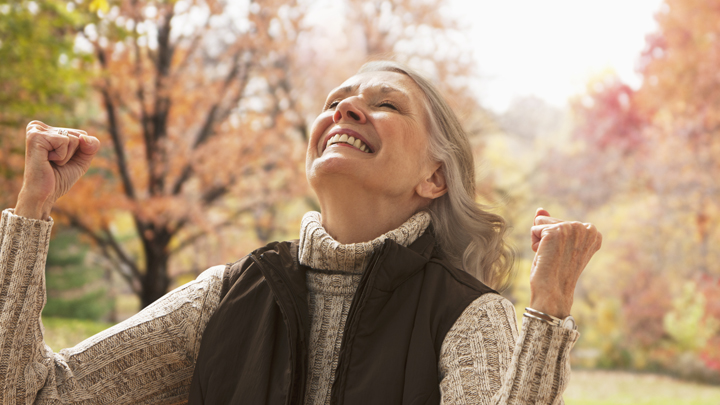 This is part six of Pat's weight loss journey that she is sharing with us. To read her previous blog, click here. Each week she will document her progress as you support her and hopefully gain positivity and encouragement to lead a healthier life.
Eight weeks after adopting a clean eating lifestyle, my efforts are being rewarded with a significant drop in weight with six kilos gone. My clothing is loose which is a nice feeling after so many years of being overweight. I had a friend ask me the other day, "how long are you staying on this diet?" When I told her it was permanent, she was stunned. People don't seem to get the idea that my lifestyle choice is for life. So that is the major difference between a diet which lasts anywhere from 4 to 8 weeks, and a lifestyle change. I am so glad I decided to adopt a clean eating lifestyle. Finally the yo-yo dieting is finished; a distant memory. When I started on this journey, my husband of 43 years Larry was clean eating resistant, however he too has adopted my lifestyle choice and to date he has lost four kilos. His GP is very happy with his progress. It has also made life a lot easier, as cooking two different meals was a little testing at times. With the cooler weather creeping in we have taken to making our own soup and we are both astounded at how easy it is.
BASIC VEGETABLE SOUP
Take a medium sized saucepan. Add a small amount of olive oil ,one diced onion, and a couple of cloves of garlic. Saute till onion is clear in colour ,
Ad. Article continues below.
Then add vegetables of your liking. I use mainly fresh but there is nothing wrong with adding frozen vegetables.
Cover vegetables with water then add stock of your choice, cubes or powder
Cover and cook until vegetables are tender approx 20 min.
When cooked, add a dash of soy and your soup is ready to go.
If you like you can add either a can of cannelloni beans, some diced cooked chicken or beef. This makes a quick easy nutritious meal for lunch or dinner and can be served with corn fritters or toast, it's all up to you. The varieties of soup which can be made using the simple steps is limited only to your imagination.
Ad. Article continues below.
Clean eating is all about fresh food choices. Larry created a quick and easy lunch last week by making a fresh coleslaw, adding a handful of chopped raw nuts and a cooked and diced chicken breast, combined in a large bowl with a splash of balsamic vinegar. It tasted wonderful.
I guess what I am trying to show you by including these recipes is that a clean eating lifestyle is easy. There are no pills, no potions, no diet shakes (which, while are low in fat, they contain a high amount of sugar). There is no quick fix.
Many of us hit the diet merry-go-round believing that our weight will drop of us in no time at all. We are living in the 21st century and we have become accustomed to getting things when we want. I am sure I don't have to tell you, but one's weight loss is a lifelong process, so it makes sense to me to change one's lifestyle rather than going on a diet. One of the bonuses of changing my lifestyle has been that there is no set time to lose weight. So in essence the pressure to lose weight has been lifted, for me it's not just about weight loss, it is also about my health. Only four weeks to go for my three-monthly blood tests and I am looking forward to finding out the results which I will share with you all.
Well there we have week eight. I hope in some small way it will assist someone to gain control over their weight loss journey. For me it is time to get ready to take my hubby to hospital. Most of you will now that he had an altercation with a dirt bike on Good Friday and sadly his leg is infected to the point where he will require a hospital admission today. So till next time, take care and remember it is never too late to put your health and yourself first.