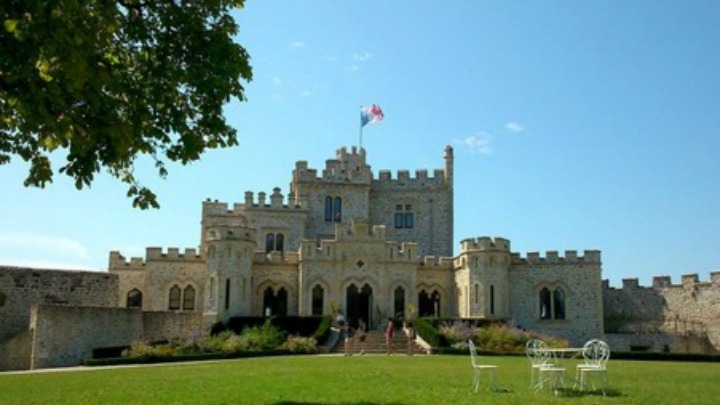 Yesterday I was invited to a friend, Anne-Sophie's home to play Yams (a dice game also called Yahtzee) with her and Franck (a friend of mine who dates back to when he came to play Yams with his sister and her boyfriend in my small hotel's café-bar).
I left earlier than usual when going to Boulogne so as to get to the vet's that closed for the weekend at midday, a cleaning fluid for my dog, Lili's bad ear was urgently needed. The veterinary surgery was on the way to Boulogne at Condette, the village where I lived running my small hotel, the Auberge du Chateau from 1989 to 2004.
Realising I would arrive in Boulogne far too early despite going to eat something there, I decided to look at the new 'globe' theatre that's been built in the grounds of Hardelot castle, Le Château d'Hardelot, (pronounced ar- de – low) is opposite my small hotel.
I'd forgotten I'd been told the little ruined tower at the gate entrance had been restored and served as a reception area. Entering I marvelled at all the modern architectural additions to it and thought they blended nicely with the old.
I spoke to the receptionist and was surprised to be greeted by name. It turned out the young woman receptionist had been a pupil of mine, she and another girl had come to me for private lessons in English when I lived in the village.
Ad. Article continues below.
Laura, the receptionist told me, that half the hotel is a private residence and the café-bar side serves as the castle's business offices.
It turned out that the little tower's add-on bit was an inexpensive restaurant so I decided to eat there. I chose a table looking out onto the castle grounds with the view of the new theatre, which was designed by a British architect who had based it on Shakespeare's Globe Theatre but so modern in design, it looks as if it has still got wood scaffolding around it! It had been tagged just before its official opening, someone had put that it was a 'carbuncle' and had written 'irresponsible politician' 'shame on you' — obviously that was quickly erased.
As I said to the waitress, when Sir John Hare bought the castle in ruins back in the mid-1800s, he rebuilt it in the British Gothic style of castle and this caused people in the area to proclaim it an eyesore and not in keeping with the French style of castle, now the villagers are proud of their Chateau d'Hardelot and so, I said, in 200 years time people will accept the look of the theatre and call it their 'globe' theatre.
After the mediocre lunch (won't waste time explaining its mediocrity as it didn't cost much more than a lunch at Flunch — a canteen type eatery in the supermarket, Leclerc's shopping mall) where I usually go on Yams days. Only at Flunch one can serve oneself as much as one wants of vegetables and good old chips — I went for a walk around the castle just as I'd done three times a day with my dogs and cats in the old days before it had been restored.
Ad. Article continues below.
I thought fondly of my dogs and cats that are no longer alive and noted that the blackberry bushes that used to grow against the walls had been replaced by cultivated plants. I used to treat myself to a few blackberries when they were ripe.
After that I went to Boulogne, bought the cheese made from raw goat's milk in Leclerc and a 24-pack of St. Omer beer at Boulogne's Carrefour — there hadn't been any in stock when I did my shopping at Etaples' Carrefour on Thursday. There still being time I called in at the Cafe Jubilé where I used to play Yams with Franck on Thursdays, but he now works that day as a tourist guide for Boulogne's little fishermen's' museum. I ordered a 'café alongé' and sat on the café's back terrace to have my first roll-up of the day made with pure tobacco and a slim filter so the cigarette is smaller than tailor-mades (on average I smoke four sometimes five a day, I'm very strict with myself).
I timed it all nicely to arrive at 3pm at Anne-Sophie's but then found there was nowhere to park near her home so I had to drive around to find a place. Blow me, just as I locked the car it started to rain so I reopened it to grab my fold-up umbrella and hastened to Anne-Sophie's house.
A most pleasant afternoon was spent in hers and Franck's company, plus I met two of Anne-Sophie's children, now adults. That was my unusual day.
Have you ever had an unusual day, like Susan's? Tell us about it.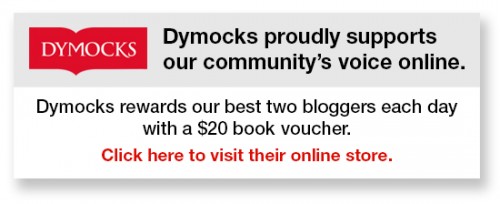 To write for Starts at 60 and potentially win a $20 voucher, send your articles to our Community Editor here.