My old friend orange... where have you been?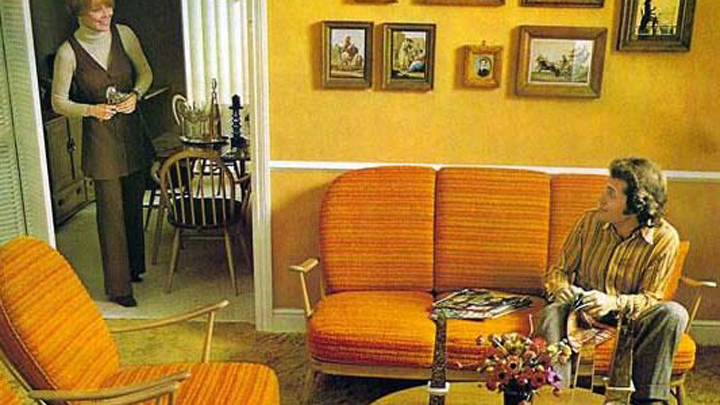 Old friend orange, where have you been? Not so long ago you bloomed unabashed on couches and curtains, along laminate, lampshades and lounge chairs. You made rooms bolder and brighter to be in. Everybody from Bond girls to Bowie, Farrah to Frank Zappa and Mindy and Marsha wanted to be seen with you. These days I only see you hanging out with the local council workers lopping trees, stowed away as inflatable life jackets or stretched across a Kardashian!
There was once a time when you sat side by side with avocado green, brown, copper, harvest gold, and wheat. A stark backlash from the psychedelic colours of the 60s, you and your more earth toned and muted friends dominated ceramics, corduroy, crotchet, kitchen appliances, linoleum, wallpaper and so much more.
Colour psychologists have a lot to say about you too. Orange is energetic and uplifting, a warm colour, slightly extroverted and uninhibited, which is probably why painters have been using you forever to represent impulsiveness and optimism. When painting people eating and lounging around a boat shed or dancing in the garden, Renoir used orange for energy and warmth. When Toulouse-Lautrec painted the can can, his dancers had flaming orange hair, dresses or stockings. Van Gogh rarely strayed from orange, embracing it in his fields, flowers, portraits, streetscapes and sunflowers.
But I have to say, I like you best in 'Entre Naranjos' by Joaquin Sorolla. Boy could he paint people and play in the light. I liked this painting so much so that I once spent a year trying to paint it and it's still not finished! Nonetheless, it hangs in my living room, radiating warmth and happiness, reminding me of where I was then.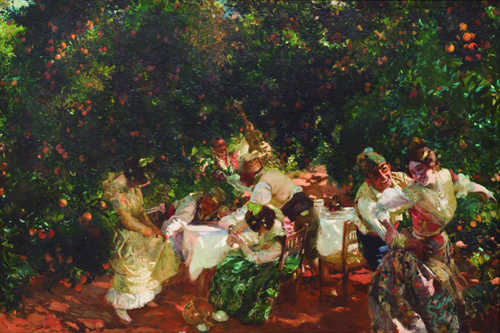 Ad. Article continues below.
One day I will find the time to finish it too, and hopefully by then old friend orange, you will be well on your way to making a comeback too!
Do you remember orange? Where did you have it most?
To write for Starts at 60 (and potentially win a $20 voucher), send your articles to our Community Editor here.