My lifetime dream vaporised by a volcano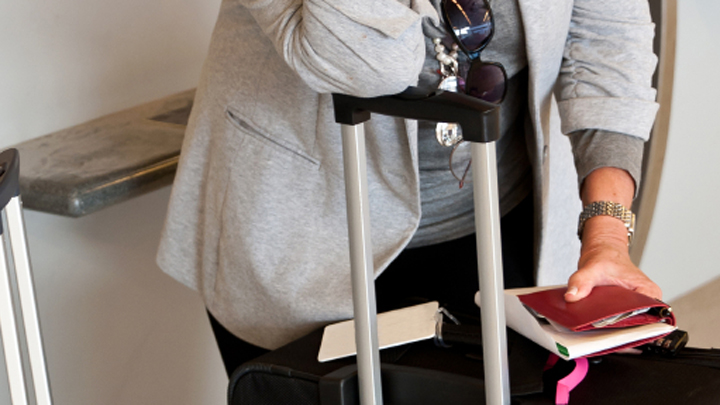 On the 14th of April we were asked at the Brisbane airport if we would change our flight to the next day as they were overbooked.
We agreed and were given a voucher for a snack while they sorted things out. Everyone had boarded the Emirates flight to Gatwick (London) when they finally told us we would be on that flight and they would give us a business class seat as a thank you for our time.
All went well and after many hours we were boarding the flight from Dubai to Gatwick (London). Just two hours out from London the pilot announced we were on our way back to Dubai! The reason? A volcano in Iceland was spewing out ash all over UK and Europe.
All airports were closed! What a shock! We were captives and could only sit there and wait for more news. Finally arriving back in Dubai we were informed we would be sent to hotels all baggage was loaded into coaches and we went to the ones allocated. We had a voucher for three meals and two nights given to every passenger.
My friend and I found ourselves in The Millennium Hotel Sharjah. It was magnificent and luxurious with fantastic, patient staff. 
Ad. Article continues below.
The next morning, as all passengers emerged for breakfast we found out the chaos the volcano was causing could go on for days. Then the panic began. One man was taking his 90-year-old mother home from holiday in Australia with just enough medication with her to get home! They were gone the next day so we never knew the outcome. There was a very pregnant woman rightfully concerned about the time factor. Many women had children with them they were also having a difficult time. One of them was on the 16th floor with a mosque outside her window where prayers were held three times a day even at four o'clock in the morning. She kept asking for another room but they never moved her. I comforted a woman in tears because she was on her way to her daughter's wedding She wanted Dad to give her away and they would miss the wedding.
Sue was from Western Australia and she just slotted in as our spokeswoman. Demanding they return our passports and said they had had jacked us; she was a character and very likeable. I gave her a copy of my novel. Yes! My trip was to attend the London book fair at Earls Court; my book signing! My dream of a lifetime…and I missed it! My dream vaporised by a volcano! I was devastated and shed my tears in the silence of my room. One vague hope within my breast that maybe the exhibition will be cancelled, but that hope was soon dashed.
Finally heard from Emirates and all passengers were summoned to the foyer with their passports. Had news from my granddaughter Samantha that she has managed to cancel our London hotel booking and she will represent me at the Book Fair. Doesn't take away my pain, but happier knowing I will be represented. I have every faith in Samantha, bless her.
Ad. Article continues below.
No further news the next day except the TV saying there has been another eruption. Some flights being offered to Nice, France but we would have to find our own way across to UK. All transport is snagged up right across Europe, trains boats and planes. Many now stranded in out of the way places and sleeping in airports and railway stations trying to get home. There is no way we can contemplate such a journey in our 70s.
On Monday it was the day of the book fair and I was close to tears all day. We have been offered a flight to Nice, where we will have to make our way home anyway we can. We said no! At our ages it is impossible. Emirates rep told us all we only have 24 more hours and we must move out of hotel or pay our expenses. Next day (Tuesday) we were told they will take us back but it means forfeiting our return flights from UK to Australia booked for end of May. That seems hard for a couple of pensioners! We accept, because we cannot take any more and feeling ill! We left at 11pm and our flight left at 2.45 am for Brisbane.
One last emotional upset when the man at the check-in in Singapore. Was sarcastic when I asked to please be seated near front of plane because of my claustrophobia and he said, "ŒHow about in with the pilot? Many people would be only too happy for a seat in with the luggage, as they had been stranded so long". I told him we had been and he grinned saying, "I have given you the best seat in the plane". We were as far in the back of the plane as we could be! I felt there could have been more compassion shown.
Ad. Article continues below.
The one shining light of my unexpected visit to Dubai was, I had a long time friend staying there and she came and found me. I had never met her husband, it was wonderful to see them and they looked after us showing us the sights of Dubai and wining and dining us. I will be forever grateful to Carolyn and Steve. Thank you my dear friends. You made everything bearable and saved our sanity.
Samantha did really well as my representative and my novel ŒThe Planting is now in the hands of producers. Maybe fate has worked in a very strange way for me. Who knows? My dream may have been vaporised by a volcano, but love is working at binding the pages back together.
Has something like this happened to you before? What did you do?