My green smoothie makes me feel awesome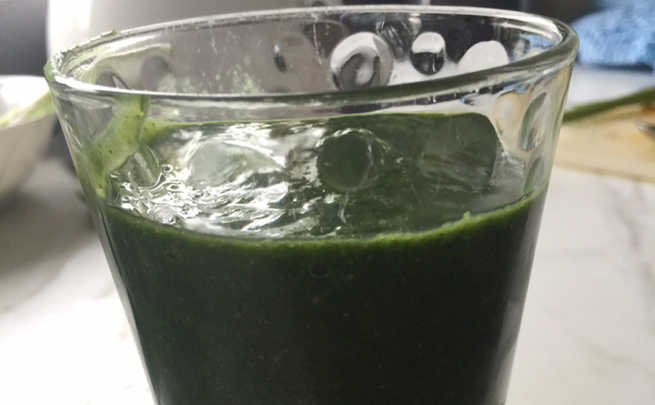 I came home from my Christmas holiday feeling bloated, having eaten my way through too many carbohydrates and drunk my way through too much wine.  I had to do something about the way I had been eating, and frankly, after eating badly for a month in America, all I wanted to do was eat fruit, vegetables and healthy food.
My solution was to start a clean eating program, the highlight of which has been a "green smoothie" every morning.  And after two weeks of doing so, I have to admit I am addicted to them and feeling much healthier for having one every morning.
It has decreased the amount of foods I eat in the day, made me feel full all morning, and set me up for a more healthy eating pattern.
The ingredients are many and varied, but my favourite recipe, after a bit of trial and error includes: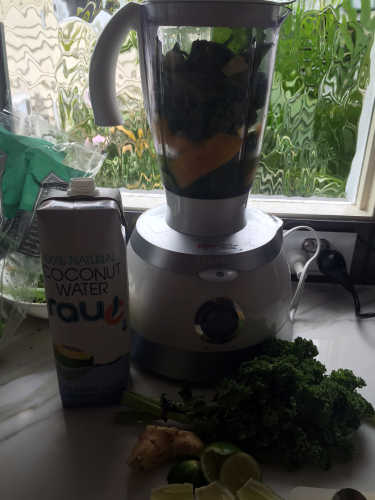 1 mango
Ad. Article continues below.
small handful of baby spinach
small handful of kale
1 cup of coconut water
2 tablespoons of chia seeds
2 teaspoons of spirulina powder
Ad. Article continues below.
a nice big chunk of fresh ginger
a whole lime, skin off
1/2 a cucumber
a handful of grapes
I have to warn you, it is not a cheap experiment, so I have chosen to make a trip to the local markets every weekend where I can buy a box of slightly riper mangoes for $5, kale by the bunch for less than $2 and a bag of limes for $1.50 per kilo – nothing like what you would pay at the major supermarkets.  I think it would cost more than double this otherwise.
Ad. Article continues below.
I started out doing it as an experiment to see what all the fuss was about, and have been reluctant to buy one of the superfood blenders or nutribullets, choosing to work with the blender I have for now, which, if I use enough liquid and put the leaves in under the mango, blends up very very well.  As I prove to myself that I am a superfood smoothie drinker, I may justify the purchase of a nutribullet or cheap version of it which my friends tell me can be bought at target and Big W for much less.
So, are you a green smoothie drinker?  What's in your favourite recipe? Or are you brave enough to try mine?