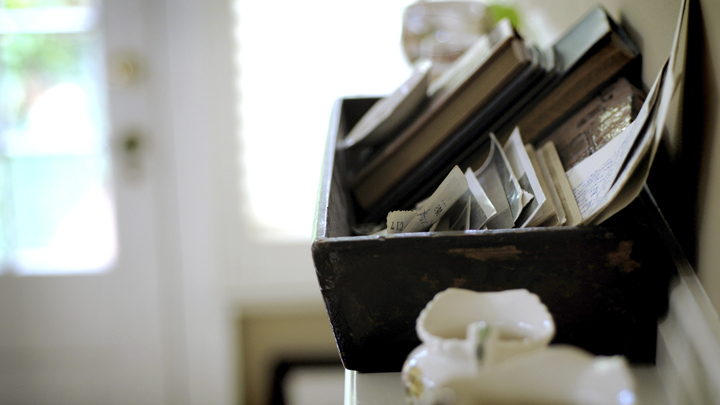 February 1956
I had been up for ages, my bright shiny blue cardboard school case ready; it was my first day in grade one. Just so exciting; I was going to start my school days in the little green, wooden building on stilts at the local Primary School, in the mid north of South Australia.
In my case I carried a wooden pencil case with coloured pencils, 5 sheets of butcher's paper for drawing, and a Vegemite sandwich in a brown paper bag.
I am left handed and for the first 6 months, each time the teacher walked by, she took the pencil from my left hand and put it in my right. She then gave me a sharp rap over the knuckles with a wooden ruler. Obviously it didn't work, as I am still a proud left hander.
In later years I remember wooden desks with metal ink wells and you lifted the lid to reveal metal nibs that slotted into long wooden holders; three cornered blue and white Tetra Packs of ice cold milk; blotters; and my favourite lessons: cursive, library and cooking.
Ad. Article continues below.
We got used to seeing Dad, a mechanic, go whizzing past the house with the driver's door open. He would have his head out listening to the sound of the car. What was wrong? There were no diagnostic machines back then.
A sister and two brothers came along during the next 10 years; the cardboard school case was used by them all.
Living in the country you made your own fun. There were Gymkhanas, CWA general meetings, Strawberry Fetes and Cabarets. All had entertainment.
There were dozens of costumes to be made during our school years. Two sisters, as fat little rabbits had fun singing Little Peter Cottontail. When the Red, Red, Robin eventually came Bob, Bob Bobbing along, there were six red tutus with gold braid to be made. Grass skirts made out of crepe paper and us two girls and Mum singing 'Pearly Shells'. Mum, forgetting the microphone saying, in the middle of the song, "Wiggle your bum girls". That went down a treat. Many of the costumes were made from bits and pieces kept in the now, not-so-shiny cardboard sewing case. It was replaced one year with a big, beaut, padded, cane sewing case.
Mum started art classes with paints, brushes, linseed oil – the little cardboard art case had begun its new life. Mum, to her surprise, turned out to be a great landscape painter and her paintings, often given as presents, are scattered all over the world, like confetti.
Ad. Article continues below.
Now in 2015, the little cardboard case is my memory keeper.
It holds two sets of World War II medals, two black and white photos of parents-to-be, young and proud, in Army uniform. Dad joined the Army as a Private on March 5, 1943 and was discharged February 29, 1946. Mum was a Private based at Seymour, a mess orderly, in the Australian Women's Army Service (AWAS); joined April 5, 1943 and discharged January 17, 1946. There are birth and wedding certificates, the first family house papers and, years later, the retirement house papers have also been kept. Rego papers for a Raleigh Auto Cycle in 1976 was $6.70 and in 1978 had risen to $8. There is a receipt dated 1987, for a General Deluxe 20-inch, push button TV. It was $729 with a 5 year warranty on the picture tube. Sadly, it also now holds both parents death certificates, Dad in 1992 and Mum in 1996.
I have added programmes for Ballet and Highland Dance concerts. Wedding and anniversary invitations announcements as Great nieces and nephews are added to the family. Birthdays – 21 st, 50th and 60th; I hope to add many more family milestones to my case of memories in the future.
Do you have a place you keep your memories safe? What is in your 'memory keeper'? Tell us about it below.