Lucie's jumping for all of us here... Wish her well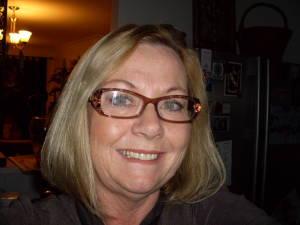 Tomorrow morning, 63 year old Lucie Gleeson takes to the sky to celebrate being an "Active over 60", skydiving over central Perth for our community, Starts at Sixty.  The jump, sponsored by RedBalloon, is the first in a lineup of experiences planned for you, our over 60s community this year.  I'm excited to say this is the start of a year full of adrenalin pumping excitement on our site.   But today, its time to send Lucie on her way with some cheers and support for her courage… So let's get to know her better… 
Lucie is a regular participant in our community and she is skydiving to celebrate everything we stand for… getting out there, trying new things and not being afraid.  Sixty years old is still so young really in the grand scheme of things… You don't have to slow down at sixty! And Lucie is living proof.  
Ad. Article continues below.
Lucie signed up to be our skydiver on a Facebook callout over four weeks ago, and now the day is almost here she can't quite believe it.
"It's just beginning to sink in that I'm really going to do this jump, I'm very excited now and just a little bit apprehensive about it," she said.  "Both my daughters think it's awesome and can't believe I'm doing it, but they both know I'm a little crazy and will try anything at least once.  I also think they're just a bit proud of their Mum as well.  My youngest Nic suggested I wear Tena ladies just in case!!!!!"
Lucie has a son and two daughters and three young grandchildren who have all offered her their ideas for the jump.
Ad. Article continues below.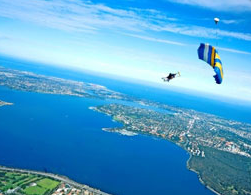 "When I asked them last night what they thought about Nana jumping out of a plane the eldest Cooper (7) said that I might have to have a little bit bigger parachute because I'm a bit big and also wanted to know if I could land in their back yard.  My Granddaughter Taylor (5) wants me to do roly-polies as soon as I jump out of the plane and the youngest Bailey (4) hopes I don't trip and fall over when I go to jump out.  They all think it's a pretty cool thing that their Nana is doing."
Ad. Article continues below.
Lucie works at the Department of Housing in Perth, and has a terrific humility about her.  She's known as the class clown turned office clown, but admits to having battled major depression for most of her life.   "Each and every day it has held me back from achieving so many things in life but not this time.."
At 7.15am Saturday morning, Lucie leaves the tarmac in Perth and begins her trip into the skies where she will jump from 12,000ft over the Perth CBD  for Starts at Sixty. She will freefall from 12,000ft for up to an insane 40 seconds, then float back to earth under a comfortable canopy.
Ad. Article continues below.
RedBalloon will be filming the entire trip for us to enjoy afterwards, and Lucie is going to tell us all about it as soon as she can gather herself from the adrenalin.
We're so excited for you Lucie, and so pleased to have you representing all our active over sixties here, proving 60 isn't old at all!

Let's send Lucie on her way with some terrific wishes from the community… post them here and on Facebook… I know she's reading a little nervously, but also very excitedly!
Ad. Article continues below.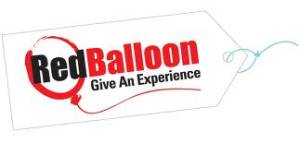 I want to say a big thank-you to RedBalloon for working with us to give Lucie this terrific experience.  
Ad. Article continues below.