LETTER TO THE PM – Glen Stevens: Hero to Zero in 7 years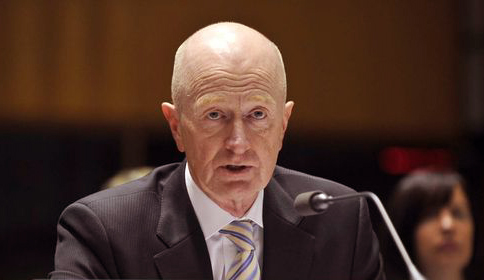 Kevin Latta, a member of our Starts at 60 community, felt strongly enough to write to Tony Abbott's office this week and asked us to share his letter with the community to see if you agree with him.  
"I believe Glen Stevens and the RBA are damaging the Australian economy by creating very low interest rates. I also believe retired people should speak out and communicate their views to their elected representatives," said Kevin Latta from New South Wales. "If you and others agree with the contents of my email to Tony Abbott, see below, send him an email, if you don't agree send him your views at www.pm.gov.au".
My big gripe is that Australian voters are too apathetic, they complain to each other about what government does or does not do, but they don't communicate those ideas to their elected representatives.
Unfortunately, what is needed to fix the economy and other social issues cannot be reduced to a 30 second sound grab. In my opinion too many Australian voters spend more time deciding on what socks they will wear today than who will govern the country for 3 years. Everyone is entitled to vote for the party of their choice, not because they have always voted that way, but because they have looked at and decided the party they chose to vote for can actually deliver their promises.
Ad. Article continues below.
To those who say both sides are as bad as one another so what is the point, the response to this issue is that we the voters put those people into parliament, we the voters support by default the system that selects unsuitable candidates, we the voters give a person a well paid job for three years, because of what they said in a 30 second pre-election advertisement.
If we the voters demand better answers, then before voting next time, properly evaluate the performance of our elected representatives and or the people who want to be elected, we will get better government.
"Dear Mr Abbott,
In 2008 good management by the RBA helped protect Australia from the worst of the GFC.  Today in 2015 the RBA are damaging the Australian economy by continuing to
lower interest rate.
If lowering interest rates actually did stimulate the economy by now the Australian economy should be experiencing the greatest boom in history.
Yesterday the ASX all ords went down 90 points, a vote of no confidence in the RBA decision. ( Since I sent this email the market has fallen a further 130 points 200 in total)
The Australian economy is soft because Australian citizens are just not spending, here is some reasons why.
Ad. Article continues below.

1. Self Funded Retirees: They have less income due to lower interest rates caused by RBA decisions.
2.  School leavers: Youth unemployment is between 12% and 30% depending on the region, with no job they have no spare cash.
3.  The Under Employed all ages: Neither the current or previous ALP government published numbers on under employment, so I don't know how many there are. Due to now having a full time job they have no surplus income.
4.   Young Couples: They are saving madly for their first home, again no spare cash to stimulate the economy.
5.   First Home buyers: They have such a big mortgage they have no spare cash.
6.   Second Home buyers: Their mortgage is just too big to have spare cash
7.   40 to 50 year old citizens: Fear they might loose their job, so they are saving for a rainy day.
8.   50 to 60 year old citizens: The realisation that they will need to use some of their superannuation to pay off their mortgage.
Ad. Article continues below.
Unemployment and or fear of unemployment are a major factor that is holding the economy back. For older citizens fear of not having enough in their superannuation account to support them in retirement is holding the economy back.
Yours sincerely
Kevin"
Do you agree with this letter to the PM and the impact the RBA's decisions are having on Australia today?  Share your thoughts.  
image: ABC
Important information: The information provided on this website is of a general nature and for information purposes only. It does not take into account your objectives, financial situation or needs. It is not financial product advice and must not be relied upon as such. Before making any financial decision you should determine whether the information is appropriate in terms of your particular circumstances and seek advice from an independent licensed financial services professional.