One of the trickiest parts of ill-health? Letting others help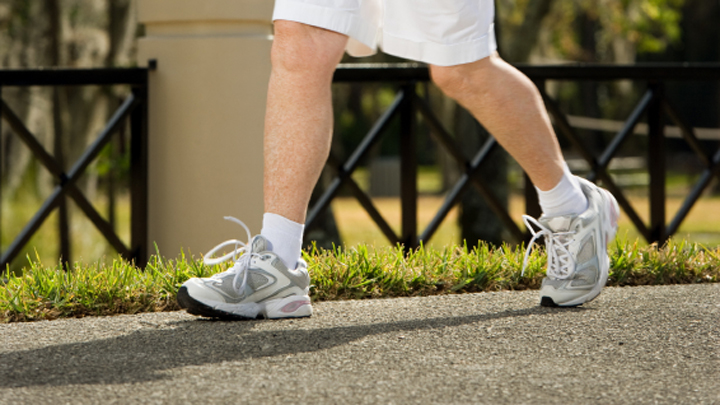 Starts at 60 blogger Mary Canaday shared the first part of her joint-replacement surgery journey here. Now, she's at home and learning that even the simplest tasks aren't really that simple … for her husband!
So, you've had your joint replacement surgery, sent home, now what? Coming home and not being able to move because of pain and having to use walking aides really hinders one's normal routine around the house.
Suddenly, cooking, cleaning, doing dishes or making the bed is impossible to do when restrictions are put in place. For me, the hardest was the 'no bending more than 90 degrees'. I am a very independent person and my husband has always allowed the house to be my domain when it came to where, when and how things are done. However, following my surgery, he is the chef and maid, so to say.
For meals I would have to remind him to take meat out of the freezer to thaw. It was no big deal as I do it all the time. Yet for him it was a chore because he had to decide what he wanted to cook and what we would have with it. Thankfully, he thought ahead and we bought enough groceries for him to last three months, but the decision seemed to overwhelm him.
Then laundry, me, I sort it. He decided that the washer's large and put everything in at one time. By the time I realised, it was too late. My permanent press and delicate clothes were in with his blue jeans. Then they all went in the dryer at once. That's where I drew the line! I had a few things that were hang to dry only.
Ad. Article continues below.
He complained, but reluctantly followed my instructions.
When it came to the floors, I reminded him they needed vacuuming and sweeping. It was three weeks before he did them, then only after I had company. He came in to see my friend so kindly picking things up off our floor only because when she came over she found me trying to pick them up with my 'grabbers'. I think he was more embarrassed than anything else.
The one thing he did was keep the kitchen spotless. Dishes were always rinsed and put in the dishwasher as soon as he went in the kitchen. Pots and pans washed before he served the meal. Unloading the dishwasher was done as soon as it beeped. Through all this he was a trooper and would even ask where I kept thing in the kitchen and was amazed that I could tell him where anything he needed was and which shelf, plus right or left side.
Through all of this, I learnt to relax about how clean the house is; it doesn't matter how the laundry is done or when it is done, and that my guests don't come in to notice if my rug has been vacuumed or floors swept and mopped that day. I felt so blessed they were true friends and family, not judging me by my house, and were willing to help out with our needs.
For me the first couple of weeks after the surgery I felt very helpless and wondered if I did the right thing. I am happy to say now yes I did make the right choice. The first two weeks I relied up on the pain pills mainly at night and always right before exercising. So many people said that within 48 hours, you're pain free, but that was a false statement for me – it was about three weeks. But I would still do it all again.
Do you find it hard to let others do things for you? Does having a messy house bother you? How have you coped during times of ill health? 
Keen to put pen to paper, or fingers to keyboard, to share your thoughts with other 60-pluses? You can sign up as a contributor and submit your stories to Starts at 60 here, and join the Starts at 60 Bloggers Club on Facebook here to talk to other writers in the SAS community and learn more about how to write for SAS.