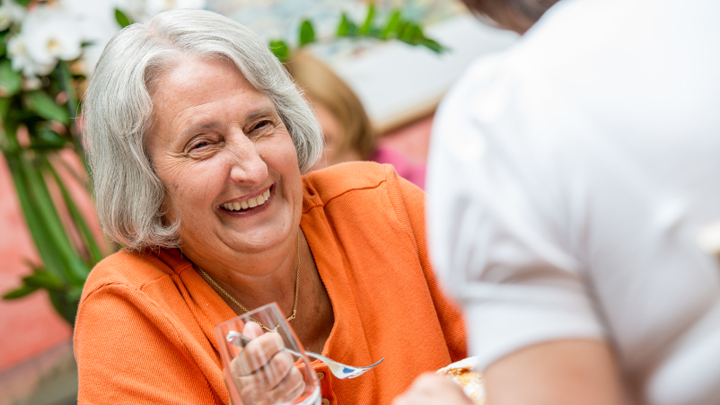 The invitation was in the letter box, delivered by hand.
My recently widowed neighbour was having the ladies of the houses nearby to dinner. Now, there were a few male noses out of joint as Audrey is an excellent cook of her native Indian cuisine.
We all dressed carefully and I carried in a plate of recently cooked shortbread. I had strict instructions to walk on the road and not the footpath, in case I fell into the telecommunications hollow between my place and Audrey's.
And what a mixed bunch of ages and cultural backgrounds we were!
Audrey and her late husband were from India, but had lived in Australia for many years. Audrey is very hospitable and we had often met relatives and friends over the years. She is also a great hospital visitor. On my return home from ten weeks in hospital, it was some of Audrey's curries that saw me through an emotional night. Recently in a blackout I saw Audrey in her dressing gown distributing candles to neighbours. I had gone into the street it to check it was not just our house blacked out, and came back bearing a candle.
Ad. Article continues below.
Beatrice was the oldest guest, 92 and very proud of it. We were in awe as she told of her recent trip to London and Paris with her grandson and his girlfriend. Her highlight was going to early Morning Prayer in Westminster Abbey, but there were other adventures besides including coping with visiting Dubai during Ramadan. Beatrice does not seem to have aged in the twenty three years we've lived here. I often wonder what she has seen in her lifetime as she came from Burma as a young woman with her husband and young family.
Beatrice was with her daughter-in-law Mary, one of our local optometrists. She didn't stay long as she was off to Bible Study. Mary eventually gave us a minute screw driver as a pair of glasses she'd sold us kept falling apart. I guess she got sick of the on-the-run repairs at her front door. Mary came to Australia from Malaysia as a student to study first for the Higher School Certificate, then her professional degree. Mary and George met at university.
Our newest neighbour was Lee, who had recently bought her house and gutted it, then rebuilt inside. She was a farmer and it's lovely to see her old brown dog snuffling round her front garden. I gather life hasn't been easy for Lee, and she's now enjoying retirement and a toddling granddaughter who visits often.
Marilyn, a former florist, hails from Manchester. She, too, is recently widowed and is grateful for supportive family network. We often catch up at Aquaerobics. Marilyn presented Audrey with a beautifully arranged posy from her garden.
Lola, a friend of Audrey's from the Lifeline shop, joined us. Audrey volunteers every Monday. Her husband used to joke about the money it cost him, as Audrey was a soft touch for anyone with children and would buy clothes for them, if she thought the family couldn't afford it.
Ad. Article continues below.
And what did we talk about?
We got up to speed on each other's families. We talked about the news of the day and the town gossip, which businesses were opening up and closing down and an assurance to Mary none of us, absolutely none of us, would be going to the new optometrists.
We listened to travellers' tales as three of us had been overseas in the past year.
We listened as Audrey and Marilyn confided the awful moment when they realised the finality of death. For both of them it had been after the funeral of their husbands, and some small job round the house needed doing. At that moment, they knew as they had not known before, the 'never ever' of parting.
There was also laughter, and good food. Audrey's curries are of the fragrant, rather than spicy hot, variety.
Ad. Article continues below.
And there was birthday cake! Marilyn and Lee were both having birthdays in the next few weeks.
As I walked the very short distance home, I reflected on how fortunate we were to be living in this beautiful part of the world with good neighbours. We had come here through many different experiences and lived in many different places. When you buy a house, you check the soundness of its structure, get a pest report, take a good look at the street and the neighbouring houses, but you can't put a price on the value of kind and caring neighbours.
When was the last time you had your neighbours over for dinner? Are you close with your neighbours? Tell us below.