Kumar's kitchen-garden scrapbook: leftovers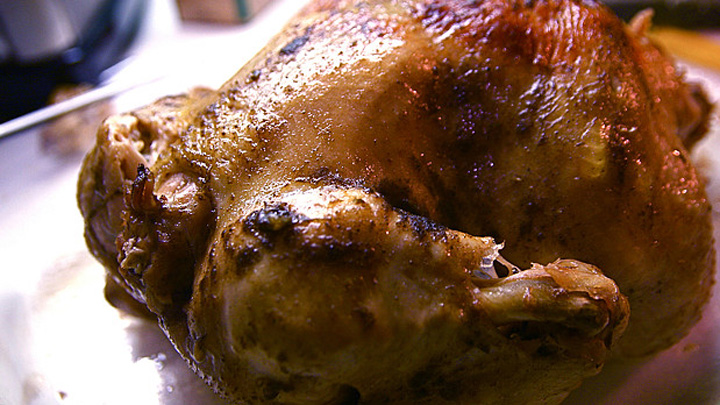 After having a glut of fennel, I now have a surplus of broad beans from the vegie patch.
When planting vegies, it is always a problem that you end up having too much of something and then deciding what to do with it – almost like leftovers. Trying to be creative or coming up with creative ways of using excess produce is challenging. Although sometimes, leftovers can be intentional as you know you want to do more with what is being cooked.
I love leftovers, especially when planned, and this is how I deal with my favourites:
Sunday night roast chicken with roasted potatoes and vegetables:
Ad. Article continues below.
This has to be on the top of my list, as not only do I love a roasted chook (as does the rest of the family), it allows so many possibilities with the leftovers. The meat is stripped off and the bones made into stock. The meat and stock get used in a risotto, the leftover risotto gets made into arancini, stuffed with mozzarella. Or the stock is frozen for a soup.
The roasted vegetables are great chopped up and mixed with shredded cabbage and fried up into a 'bubble & squeak' or 'colcannon' sometimes with the addition of fried chopped bacon and or eggs.
Another good use of the roasted vegetables is to chop them up, add a chopped onion & chilli and a tablespoon of curry powder, form them into little balls or fritters and dip them into chick pea flour batter and shallow fry until crisp. As the vegetables have been cooked these little bites cook really quickly are a great as a nibble with drinks or a party canapé. They can be formed and frozen and once thawed coated in the batter and cooked.
So the simple Sunday roast chook has provided:
Chicken stock
Risotto
Arancini
Bubble & sqeak
Spicy vegetable bites / fritters
Ad. Article continues below.
Cauliflower cheese
Particularly if it has been made with a whole cauliflower. The leftovers mixed with chicken stock and a little cream or sour cream brought to the boil and whizzed up in a blender makes a great creamy cauliflower soup – depending on the amount of added liquid, it can be a cauliflower pureé to accompany grilled fish or a steak.
Spaghetti Bolognese
Ad. Article continues below.
Another favourite, and who doesn't like the leftovers cold the next day? Reheated or turned into a bake with the addition of a crumble like topping of fresh sour dough bread crumbs, grated parmesan, crumbled crisped up prosciutto and a sprinkle of chilli flakes and baked until crisp.
Roast lamb/pork
Shepherd's pie is the first thing that comes to mind with leftover roast lamb, but I like taking it a step further and doing a sang choy bao, by finely dicing the lamb adding a splash of hoisin and soy sauce, chopped mushrooms, ginger and garlic, a finely chopped red chilli and a drained and chopped can of water chestnuts and some finely sliced spring onions – fry all of these together in a tbsp of oil and serve in iceberg lettuce cups.
This works really well with leftover roast pork as well.
Ad. Article continues below.
Another way I use roast lamb or pork is to finely chop the meat, along with any leftover vegetables, then add chopped parsley, season with salt and pepper and some toasted pine nuts. Cut off the leaves from a small Savoy cabbage, blanch in boiling water and stuff with the meat mixture and roll up (you might need to trim off the hard woody stem at the end) and place in a baking dish, cover with a can of chopped tomatoes and sprinkle over with grated cheese and or bread crumbs and bake in a hot oven for 30–40 minutes.
Curry
Yes, occasionally (very rarely though!) there is left over beef or chicken curry, not enough for a meal but enough for a quick canapé. Chop the meat up and add extra chilli powder – often a left over curry needs an extra punch. Cut a sheet of frozen shortcrust pastry using a small round pastry cutter and fill with the curry – bake in a small muffin pan until pastry is cooked and golden. Garnish with fresh coriander leaves.
Finally the last and best…..
Ad. Article continues below.
Rice
I always cook more rice than required because leftover rice makes the best ever fried rice. Refrigerate the rice overnight. Finely chop up any chinese greens, rashers of bacon or chinese sausage (lap cheong), carrots, and an onion, garlic and ginger – fry these up in a little oil add some soy sauce and hoisin sauce, a splash of sesame oil, ½ cup frozen corn and peas and the rice. Garnish with sliced spring onions, coriander leaves and bean sprouts. Top with a couple of beaten eggs mixed with some soy sauce, fried and sliced fine.
As for the leftover fresh veggies in my garden … watch this space!
Yum! Will you be trying any of these great ways to use leftovers? What's your favourite way to use your leftovers? Tell us below!