Kumar's kitchen-garden scrapbook is back!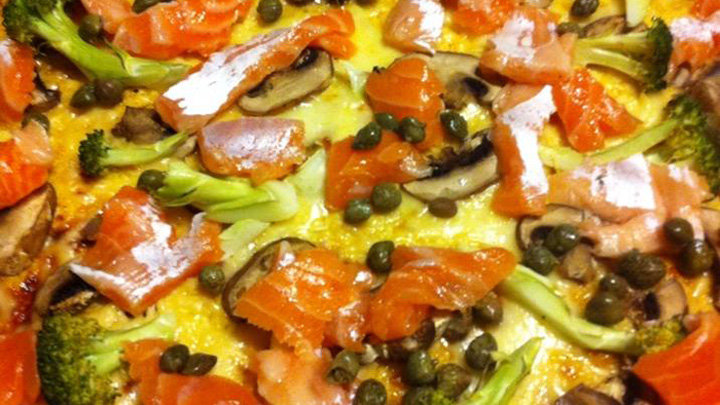 Here's an extract from Kumar's Kitchen-Garden scrapbook… What is he growing and cooking from the garden this week?
August/September
It was a strange winter – we have had little rain to start with, hot and sunny days and then very cold weather. In August there was rain and lots of it; the vegies and plants were as confused as we were!
Finally it is getting warmer and it is spring…After a bout of the flu, some hectic working weeks and two short breaks away, it is back to the garden and keyboard.
Ad. Article continues below.
I feel like my vegie patch looks: all bursting with energy and growth. The borage plants are all in bloom and attracting so many bees. The broad beans are in flower and thanks to the bees, are producing pods. The parsley which self seeded is rampant and amidst all of this wild growth I have discovered 3 coriander plants that also self seeded. My fennel is in flower again. The kale and snow peas are thriving and continue to produce enough to harvest.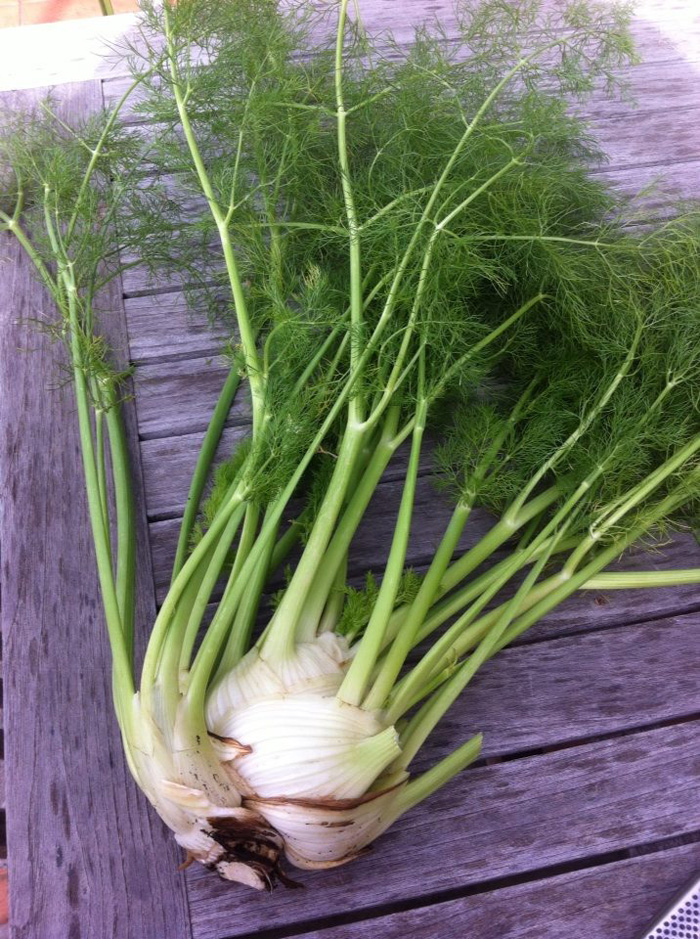 I have enjoyed my first harvest of fennel and there are four more bulbs that are fattening up. It was such a pleasure to pick my own and we enjoyed the freshly picked fennel gently braised in white wine and olive oil, it was tender and sweet with charred brown edges, that we had on freshly baked and grilled sour dough bread and sprinkled over with lots of grated parmesan. I couldn't bear to throw out the fennel fronds which I normally only use as a garnish – but looking at it I decided to pick the best and after washing and spinning dry the fronds, I made a pesto. It was fresh and green and sweet, whizzed up with olive oil, garlic, pepper and pine nuts – we loved it stirred through pasta and also heaped on fresh salmon with buttered new potatoes.
The markets are stocked with great brassicas: cabbage, cauliflower, brussels sprouts, and broccoli. I love them all and recently have been making cauliflower soups as well as using the florets to make a mock pizza crust. We love it and use a variety of toppings – fresh salmon, proscuitto or chorizo or just vegetarian. So many delicious possibilities for experimenting.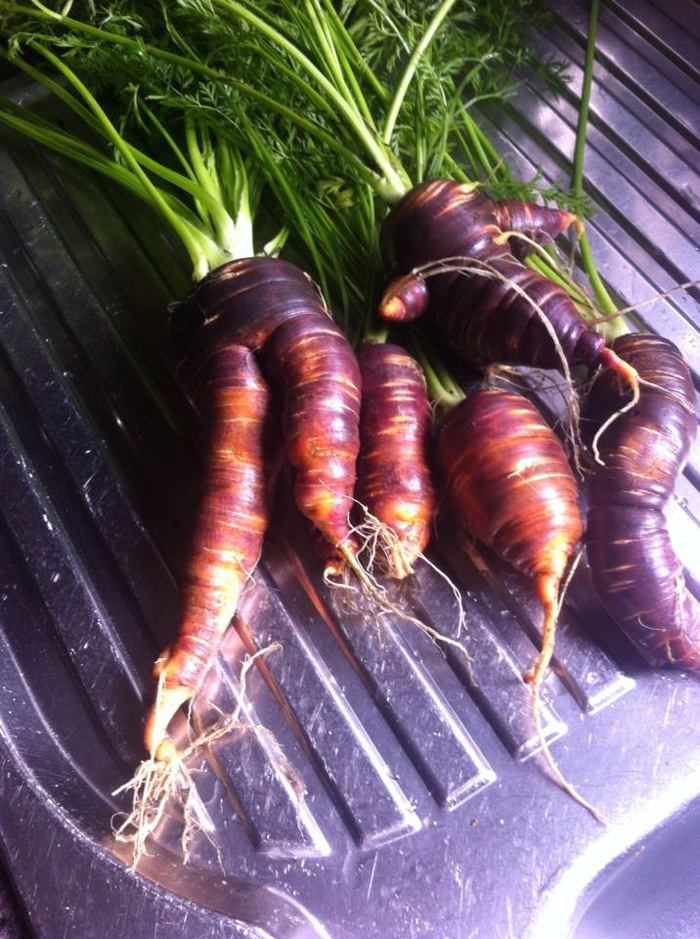 Ad. Article continues below.
I have also loved illustrating them – not easy, especially the cauliflower and after 3 failed attempts I am finally pleased with the result. Brussels sprouts were as challenging, but both were great to cook with and eat later.
So the spring garden continues to flourish, next for harvesting is sorrel, fennel, parsley and the broad beans and I can't wait to pick their fat pods again. The leaves too are a lovely addition to stir fries.
This week I will sow the tomato seeds saved from last year – 3 types as well as an heirloom variety that I got from my neighbour. I will remember to save some seeds of broad beans as having a very small patch I find it is a waste to buy a whole punnet of seedlings as there isn't enough space for more than 3 or 4 plants. I did harvest some carrots last month – they were purple carrots which were orange inside. They were all misshapen and gnarly but tasted very sweet.  I was also given use of my next door neighbour's planter box which was great and is now flourishing. In this space I have mini cabbages,  kale, chard, thyme, oregano, rocket and snow peas.
I have enjoyed using fresh produce from the garden over the winter period and although I didn't grow any cauliflower we really enjoyed this cauliflower crust pizza: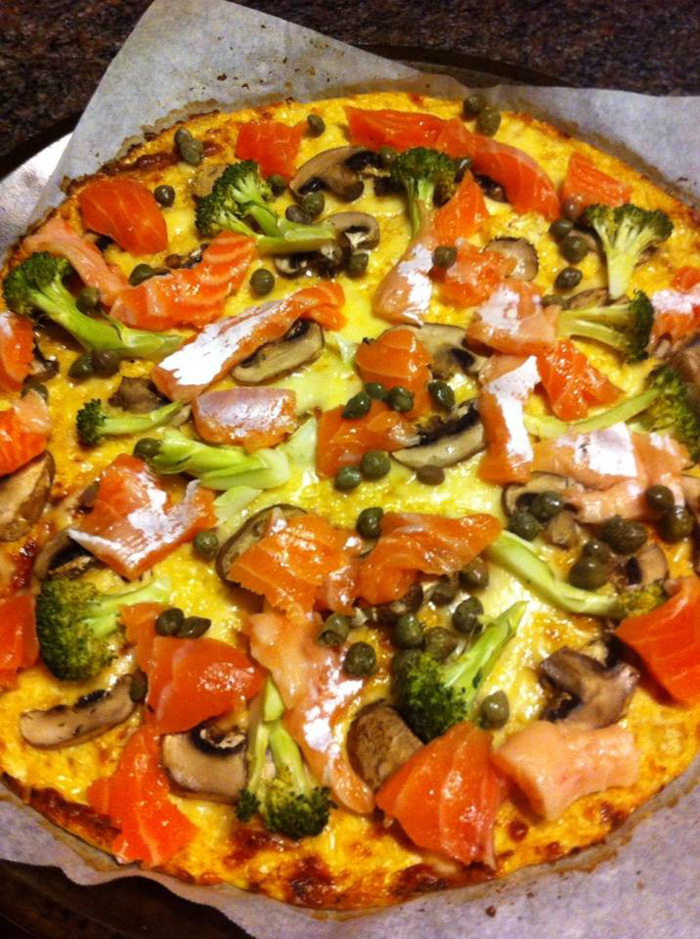 Ad. Article continues below.
Cauliflower Crust Pizza
This is a very light, easy low fat healthy vegetarian option.
Ingredients
1/2 medium cauliflower – florets only [save stalks and leaves for a soup]
1 egg – beaten
Ad. Article continues below.
1/2 cup light shredded mozzarella
1/2 cup grated parmesan
1/2 tbsp chilli flakes [optional]
salt, pepper, olive oil
Toppings of your choice [salmon, sliced eggplant, broccoli, tomatoes, sliced chorizo, sliced mushrooms,  asparagus etc] + extra cheese
Ad. Article continues below.
Method
Blitz the cauliflower florets in a food processor along with the cheese for a few minutes until it looks like coarse bread crumbs or couscous, do not over process. Add a splash of olive oil to a frying pan and add the cauliflower mix to the pan. Cover and allow to steam for a few minutes shaking the pan constantly. Do not overcook. Take off heat, allow to cool and mix in the beaten egg and add salt and pepper and the chilli flakes if using.
Line a pizza tray with baking paper, drizzle over with a little olive oil and using a silicon spatula spread and flatten the cauliflower mixture evenly to about 5mm thickness. bake in a pre heated oven, 160º for about 20 -30 mins. Checking that it doesn't get too brown. When golden sprinkle over with shredded light mozzarella, parmesan and toppings of your choice and bake until just cooked – A really great healthy and light version of pizza!
What do you love to grow in your garden? Do you have your own vegie garden? What delicious meals do you make out of your crops? Share with us below!