Kool Kats: Nobody's a stranger on Nevis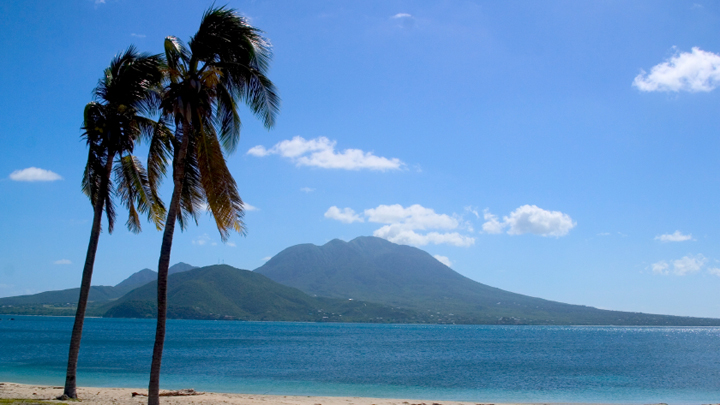 "Nobody's a stranger on Nevis"
This is exactly how it felt when we walked around the Caribbean island of Nevis, which is the sister island to St Kitts in the Federation of St Kitts and Nevis. The latter has a population of 12,000 spread across 36 square miles and, like many Caribbean islands, its volcanic history creates opportunities for hiking and its clear waters and beaches make it a popular tourist destination. The British claimed the two islands as its first Caribbean colony in 1623 and the French joined forces with the Brits shortly thereafter to wipeout the 2,000 Carib inhabitants. This, of course, was before the Brits and French fell out! After 150 years of fighting and under the Treaty of Versailles in 1783, it became wholly British. Today they are fully independent with a strong British tradition and about 50,000 inhabitants.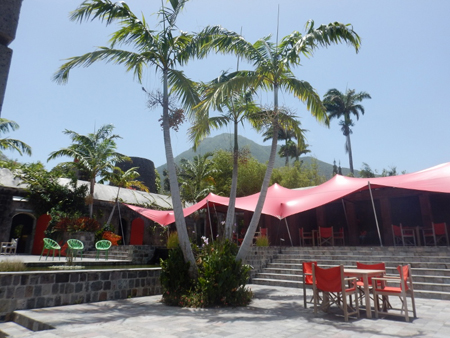 As the title of the article suggests, we were made to feel very welcome and locals were extremely helpful. "Nobody's a stranger on Nevis" stickers appear everywhere. One day Mal needed to purchase a new fuse-holder and, on a small island like this, we didn't hold out much hope of finding one. But, when we stopped a gentleman to ask if there was a hardware, he found out what we were looking for and offered to take Mal in his car to an automotive place, wait and drop Mal back in town. It wasn't far out of town and we were quite prepared to walk but he wouldn't hear of it. Such a sweetie!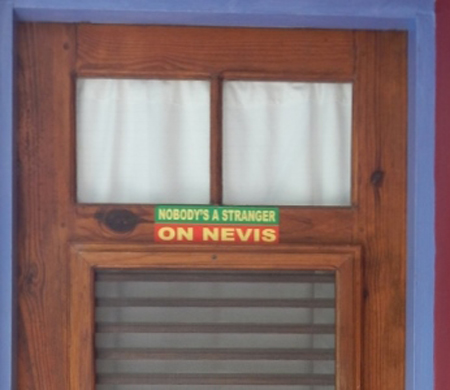 Nevis is similar to many islands in the West Indies that enjoyed great prosperity through the cultivation of sugar. Some islands had lots of plantations and many that we've seen elsewhere have fallen into disrepair. However, here on Nevis, there are several that have been beautifully restored. We hiked to a few but the most impressive we saw was Golden Rock. Now renovated it has accommodation, a pool, magnificent views across the Caribbean Sea, an excellent restaurant and grounds that would rival a Botanic Garden.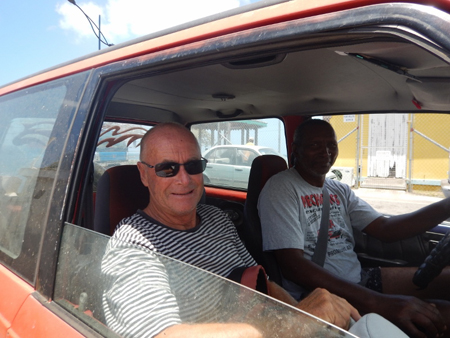 Six of us (couples from three boats) caught a local bus ($2.50AU each) and for an extra 50c we were dropped at the door! We checked out the restaurant, reserving the table in the rotunda with spectacular views, before having a quick wander through the property. Because we would be eating lunch in the restaurant, we were permitted full use of the pool. As much as the water was beckoning, we decided to follow one of the property's hiking trails in search of the local African green vervet monkeys. They are an introduced species and were brought here as pets by plantation owners. They were very elusive but we did spy a number during our week's stay on the island. Returning to the hotel we had a delicious lunch and a swim in the beautiful pool. After strolling through the Botanic-like gardens we walked back down to the main road and caught a bus home.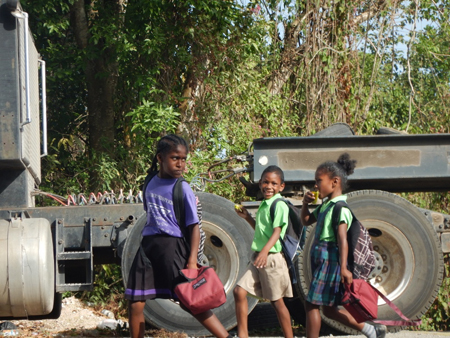 Ad. Article continues below.
The friendliness starts from the very young. School children, both littlies and teens, all say "good morning" or "good afternoon" with a smile on their face. Some local women we met in the bus mentioned that they would be in terrible trouble from their teachers and/or parents if they failed to acknowledge and greet others. It made for such a pleasant experience!
The remainder of our days on Nevis were spent hiking the trails, visiting the actual Botanic Gardens, sampling local foods, listening to live music and just soaking up the local culture. Some nights are spent on other cruisers' boats enjoying a drink and a chat. Moored next to us in Nevis we had a young Aussie couple, Elayna and Riley, who came over one night. They are the sweetest 20-something year olds you're ever likely to meet and we are now following them on Facebook under Sailing La Vagabonde!
As we move down through the island chain to our destination, Grenada, we continually meet up with other cruisers' we know heading the same way. It's a great life and I thank my lucky stars for every minute of it. My next post will be about the French islands – a taste of Europe in the tropics!
Until next time, thanks for reading and take care, Sue.