Kool Kats: Grey nomads...but on water!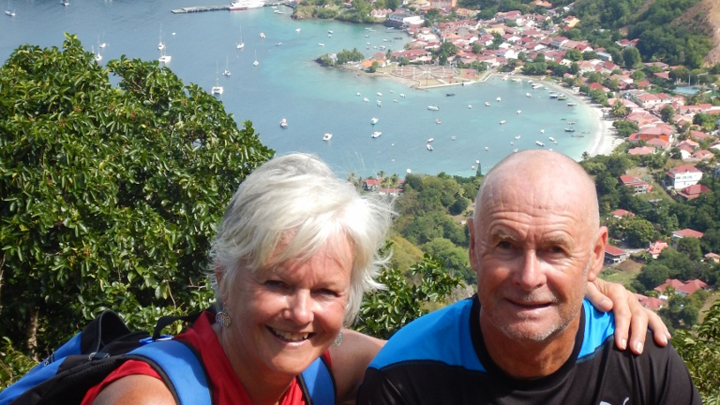 That's my 'elevator pitch' when people back home ask what I do. It's the short and sharp description which most readily captures what my husband and I do. Actually, I've recently altered it to Silver Nomads as it is far more apt in my case and doesn't have quite the murky sound about it! We visit places (read countries/islands) in our mobile home, which happens to be a boat.
People often ask how I came to be living on a boat on the other side of the world and I respond – it just sort of happened! But, of course, that's not quite right, things don't just happen. There was a series of events that culminated in our decision to buy a catamaran and sail the Caribbean. A redundancy, family moving interstate and the death of our last parent were three significant events within a 12-month period that stirred a memory. We had spent time in the Caribbean three years earlier on a friend's boat and the thought of living that lifestyle suddenly gained some appeal, especially when another friend decided to list their catamaran for sale. One we knew and trusted. Following conversations and a boat survey, Mal hopped on a plane to Sint Maarten for a five-week trip with the owners and the deal was done!
We sold our home, de-cluttered and minimised our belongings down to one shipping container and here we are, living on a 47ft long boat with two hulls. But, before I tell you about our gorgeous girl, Kool Kat 1, I should say that Mal and I had some previous sailing experience in Australia. For approximately six years we owned a 27ft Columbia (monohull) and mostly sailed in Melbourne's Port Phillip Bay. We had sailing lessons which were excellent but could do nothing to prepare me for the debilitating seasickness I would experience throughout those six years. I tried everything and anything but it became so awful that we eventually sold Sancha. Mal did a little sailing on other boats but after moving to the country, very little.
Ad. Article continues below.
Seasickness I hear you say, and you bought another boat? Fortunately, my earlier Caribbean experience highlighted that I could comfortably sail, and live, on a catamaran without experiencing too much pain!
Fast-forward to February 2015 when we celebrated our first anniversary living on Kool Kat 1. For non-sailors and to give you an idea of the size of our home, she has four QS bedrooms, four bathrooms, a living room, a kitchen and an outdoors entertaining area. Translation for yachties: she is a Leopard 47 with four berths, four heads, a galley, a salon, a cockpit and a trampoline. We are relatively self-sufficient in that her power comes from solar panels with a diesel-powered generator as back-up, she makes 40 gallons of water in an hour, and we have appliances such as a washing machine, microwave, ice-maker, in addition to standard kitchen appliances. Mal has a workshop, which means we are down to three berths, which is well-decked out. Kitty Kat is our car; a 12' dinghy with a 20hp motor.
The past year has been an extraordinary time in our lives and one we feel blessed to have experienced. We set out from Australia with roughly a three-year plan, and budget, but didn't really know what to expect. It is safe to say the year far exceeded our dreams and hopes to the point of saying we may cruise longer.
I hope you will be interested to come with me on our journey; our day-to-day activities, our adventures, our discoveries, our challenges, our joys and our pitfalls! Many friends tell me they are cruising the Caribbean vicariously, through us. I hope you can too!
Would you like to sail the Caribbean? What is your dream retirement?