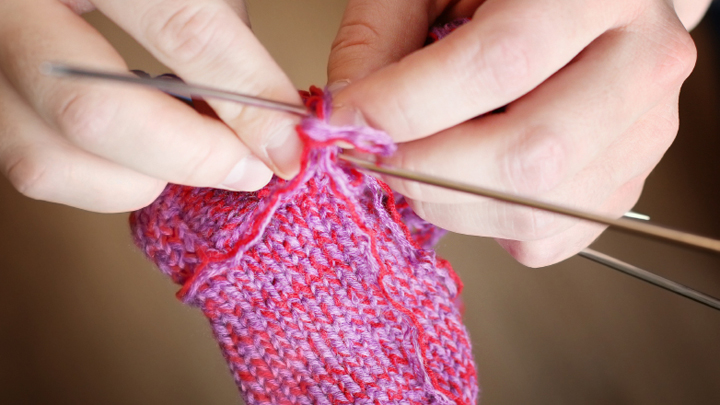 Still love to knit, but the family has enough of your knitting? Then there are people and organisations that can get your knitted (or crocheted) garments to those that need them.
If you want to browse through the websites yourself there are two main places to go. The Knitters Guild has a list with direct links to a wide variety of charities. KNIT4CHARITIES also has links. They have monthly projects Australia wide that you can join in to give your knitting some variety.
You might like to decide whom you'd like to knit for. Knitting for babies is popular but most websites advise that with modern technology knitting for premmies isn't needed in hospital. You might like to contact your local hospital to see if they need anything. There are two groups which do need baby knits. The Malabar Midwives Service provides help and support to disadvantaged Aboriginal mothers and they appreciate babies and toddlers clothes particularly knitted in the traditional red, yellow and black. Yasminah's Gift of Hope provides knitted or sewn garments to parents of premmies, stillborns, neo-natal deaths or infant loss. The parents have a memento of clothes their baby has worn as well as other keepsakes of their baby. These are distributed through hospitals. The L'il Aussie Prems Foundation has a link to this site, so you could check it out to see what's needed.
Women's refuges often have a need for children's clothes and beanies and scarves for mothers. Red Cross and the Smith Family sell good clothes in their stores and I'm sure a parent would be delighted to find a new hand knitted garment for their child when times are tough. You could also check with other charity shops.
Ad. Article continues below.
Stewart House, on the beach at Manly, needs jumpers and beanies for the bush kids who come down to the city for a variety of reasons. Although staffed by government teachers, Stewart House is financed by the NSW Teachers' Federation and is a charity.
Trauma teddies are distributed by the Red Cross and are used, amongst others, by our police and other emergency services.
Adults need knitted goods, too. Beanies, scarves, fingerless gloves and blankets are in demand from such places as Missionbeat, Parramatta Mission, The Exodus Foundation, Quest for Life and Care for Street Kids. If you go to their sites you can find where to send your knitted goods.
If you'd like to knit for animals The Cat Protection Society, WIRES and the national Animal Trust Fund need blankets and pouches. Patterns can be found on their websites. Jumpers for the penguins of Phillip Island are no longer needed.' Apparently the volunteers down there are struggling to cope!
If you're short on patterns most knitting sites carry free patterns.
Ad. Article continues below.
My favourite knitting charity is Wrap With Love. This is a great way to use up spare wool and to knit without much concentration. The squares are 25cm in 8 ply garter stitch, so simplicity itself. There are many local groups that meet to knit or sew up donated squares, or you can just knit up a bundle and send them off if there is not a drop off point near you. Local libraries often act as collection points.
Knitting for charities is a great way of volunteering and contributing.
So, happy knitting. Those nights are getting cooler.
Do you knit? What do you like to knit? Tell us below.